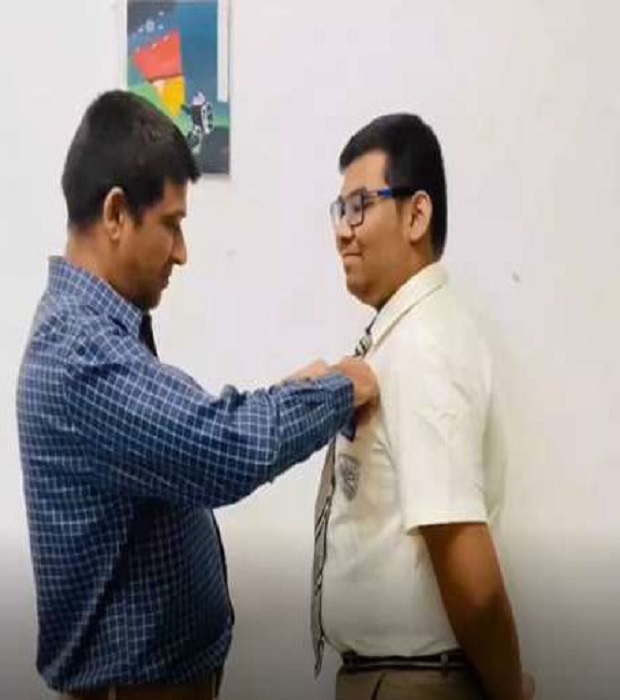 Math Club Inauguration
27 Sep 2020
On September 27th, 2020, Math Club of the OOB, Sharjah, was officially inaugurated. It was a virtual inauguration on TEAMS at 12 noon by our Principal and CEO Mr. Sri Valsan Murugan. The aim of the event was to spread awareness about the practical use of Math and to improve critical thinking, in students. Mr. Jaideep Satheesan, the parent of Jaideep of 10 H was invited as the chief guest. Our Head Mistress Ms. Sindhu. P. Nair, the Head of the Primary Section Ms. Priya Sajit, Supervisor of Senior School Mr. Vipin, the Head of the Math Department Ms. Sindhu Suresh, Maths teachers and all Math Club members were in attendance.
The Math Club hosted the event and Arif Salam of grade 11 C recited the prayer. It was followed by a welcome speech by Jash Desai of grade 11 D, the newly elected Club Coordinator. The event was inaugurated and the Logo was launched by the Principal. The encouraging words by the Principal on the correlation of Math with Arts, Sports, Science and other subjects has felicitated the audience. Math club badge to the President, Secretary and the Head Coordinator were pinned on them by their parents. The chief guest Mr. Jaideep Satheesan who is interested in the field of Maths, interacted with the students and gave words of encouragement to the young minds.
The President of Arts Club Ravi Shanker Gopal of 11B spoke on the relation between Maths and Arts,also performed some art works based on coordinate geometry. The president of Photography Club and School Sports captain spoke on the relation of the subject with Photography and sports.
The OOB Ramanujan, Alfaz of grade 9 made the audience acquainted with the easier ways to do Math calculations. He has created a Math Buzz among the audience by solving 3-4 digit addition and subtraction in seconds.
Mifzal of grade 7A has impressed the audience by solving Rubik's cube in 35 seconds with blind folded eyes. Head Mistress Ms. Sindhu and Head of Primary Ms. Priya wished good luck to all the club members. Finally, the newly elected President Smith Mahant of 11D gave vote of thanks.