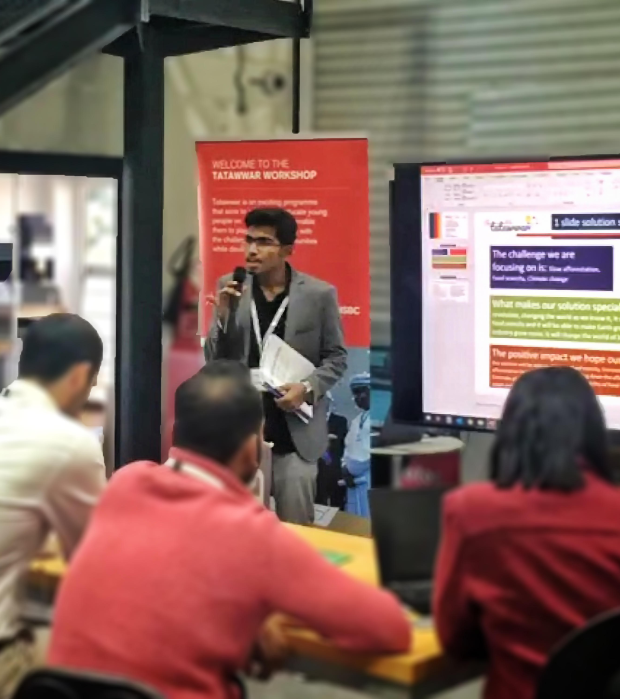 Our own innovator Joel Jiji makes us proud
08 May 2020
The Tatawwar Programme
It is a GCC wide competition organised by Potential and bought to you by HSBC, Bringing together students and schools from all over the region to present innovative ideas for the future, It includes the creation of a prototype and a business pitching session to further develop this idea in a business perspective. The program also aims to give students the chance to practice important business skills, understand sustainable commitments, connect with the corporate world, and hear from some extraordinary professionals along the way. The winners will get a once in a lifetime chance to showcase their innovative ideas at EXPO 2021 in Dubai.
The Selection process
Initially, we had to register and complete online webinars about the development of business ideas. After that, the students had to create their document talking about their idea and how it can be implemented in the world. Ideas had to be about solving the UN's sustainable development goals (SDGs). Out of these students, a selected few were called for a prototyping workshop where they created their prototype and presented it to the judges (Semi-Finals). Then after that here we are, where they selected 6 Students to represent UAE and compete against each other and the rest 14 from the GCC with their unique ideas in the Finals.
The Journey up until now
The Tatawwar program consists of countries in the MENA region organised by Potential and brought to you by HSBC. It has truly been an amazing journey from being one in 5000 students who applied to being one of the 20 representing their countries to being placed second. this journey of the last 6 months has taught me a lot in terms of business and entrepreneurship and how the corporate world works. It is an experience that I will cherish for a very long time.
The next step of this journey
Now HSBC and Potential will support me to turn my project into a product and bring it into the commercial market. I'm looking forward to what the world has in store for me and I'll try my best to make an impact and change the world for the better.
I would like to especially thank Seema ma'am, Prema ma'am, Geetha ma'am, Shuhail sir, Sindhu ma'am, Faizal sir and many other teachers from our school who supported me with my research on plants from the very beginning without their support for the last 2 years with valuable inputs and access to facilities I would not have been able to develop this project to what it is today.