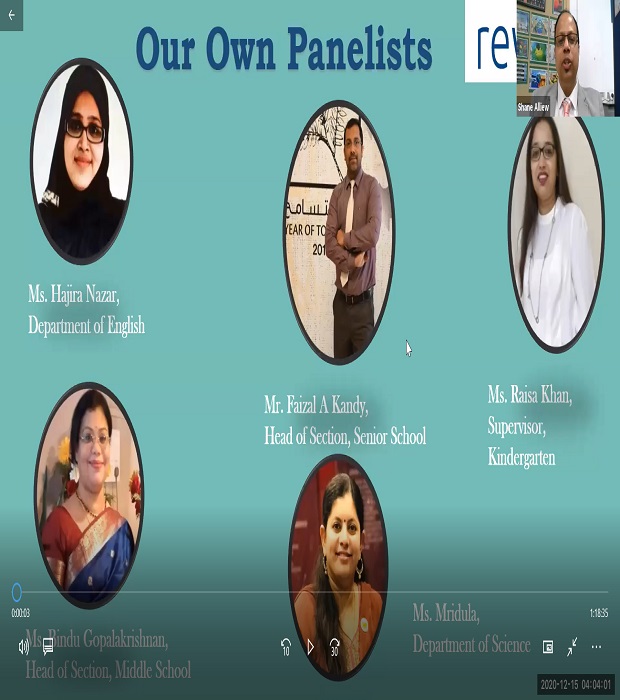 RewirED Talks 2
15 Dec 2020
On 15 December, Our Own English High School, Boys', Sharjah, held the 2nd edition of the RewirED Talks on the topic: (i) As an educator, I am not saying I'm going to change the world, but I guarantee that I will spark the brain that will (ii) How do you think this could be implemented in the daily transaction of lessons?
The esteemed panelists comprised of Mr. Faizal A. Kandy, Head of Section, Senior School, Ms. Bindu Gopalakrishnan, Head of Section, Middle School, Ms. Raisa, Supervisor, Kindergarten, Ms. Hajira, Teacher, Department of English, Ms. Mridula, Teacher, Department of Science. The talks were moderated by Mr. Shane J Alliew, Supervisor, Grades 7 & 8.
On the given theme, Mr. Faizal expressed his views that as educators, we need 'to make our pupils think out of the box', which is an essential '21st century skill development obligation'. To this end he stated how 'great teachers inspire' both within and outside the classroom. He emphasized on high questioning techniques and enquiry-based learning.
Ms. Bindu opined that 'foreign exchange programmes' add a global perspective to learning in general and the integration of sports, in particular, adds an enhanced dimension to the curriculum, which must be re-visited regularly and critically analysed. She advocated the amalgamation real life events, situations and scenarios into our classrooms which would make both teaching and learning more meaningful for pupils and teachers.
Ms. Raisa spelled out the significance of the educator being empathetic to all pupils, catering to different learning styles and multiples intelligences, championing the caused of tapping the potential of each and every individual in the classroom. She appealed that as an educator, crucially, one has to realize the importance the teacher plays in the lives of the pupils and how she affects/ touches those several individuals.
Ms. Mridula underlined the magnitude of the partnership educationalists share with both the pupils and their parents. On the basis of this crucial relationship teachers focus on celebrating each student, their mindsets and their small, yet significant achievements. This goes a long way in instituting a robust bond. She orated the use of humor in classrooms, which goes a long way to make the learning environment conducive. She also appended the integration of art and music in the daily transactions of the lessons.
Summing up the talks, the Principal and CEO, Mr. Srivalsan Murugan stated that as a 'learning community of life long learners', we go forth enlightened, to enlighten young minds, a substantial responsibility we carry upon our shoulders. He stated that each one of us is 'a change maker', 'shaping the statue we are working upon'.