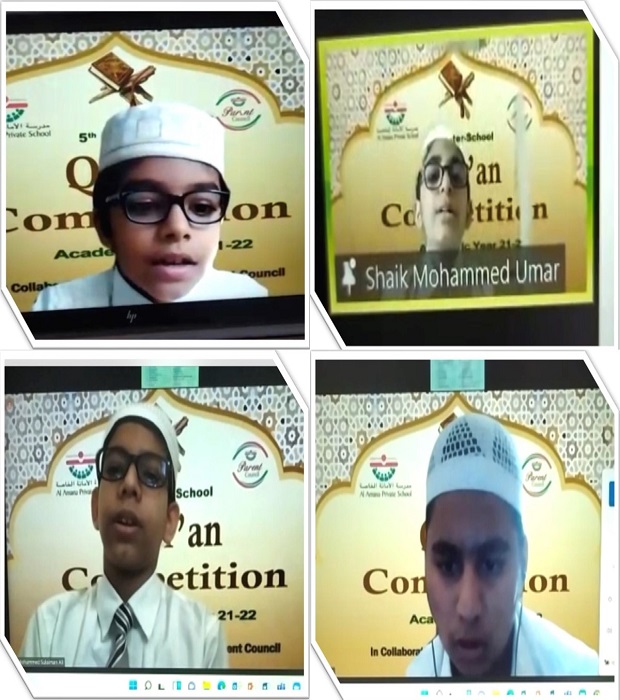 The 5th Inter-School Qur'an Competition
30 Jan 2022
The 5th Inter-School Qur'an Competition (2021-2022) was held on 30th January 2022 online, via Zoom platform, organized by Al Amana Private School, Sharjah in collaboration with Al Amana Parent Council.
10 schools and more than 50 students participated in the competition.
Judges were from The Sharjah Qur'an and Sunnah Est. (UAE Nationals). Three male and three female judges adjudicated the competition.
It was undoubtedly an excellent program. We participated in five categories. Majority of Arab students also participated in the competition. The competition was challenging for our students but their performance was brilliant.
The following students from our school became the winners in the program;
SYED MUHIB UR REHMAN (10H) got First Position in 9th/10th category.
ABDULLAH (KG-2C) got third position in the KG category.
The audience highly appreciated the performance of our students.
Our participants were given special training for the program online on TEAMS after school hours under the guidance of Islamic department and specifically, Naufal Sir. All the team members supported and joined with the participants under the leadership of Samira Ma'am, (Supervisor of Arabic and Islamic) and Nosheen Ma'am on the day of the competition. This accomplishment is a reflection of an excellent team work.