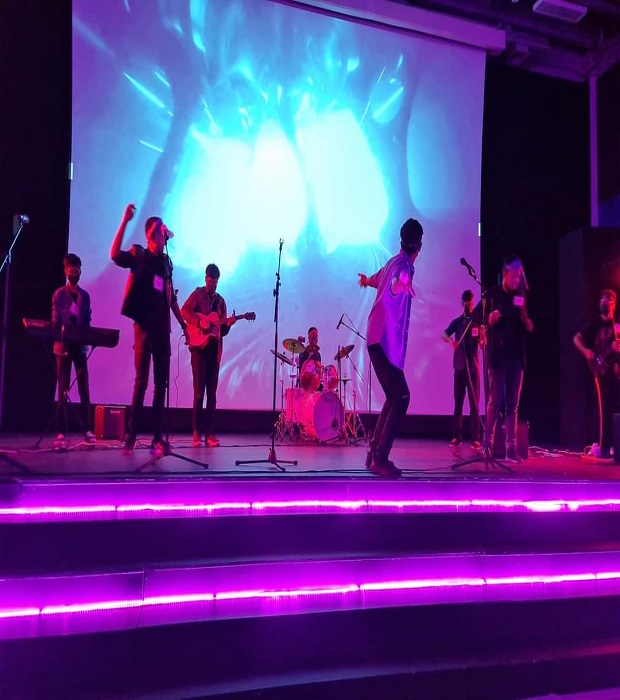 Battle of Bands
24 Sep 2021
After a hiatus of eighteen months, we made an extravagant return to onsite events by hosting the most exuberant Student Council initiative that has always been a colossal hit with not only the students but also our staff – the very popular Battle of the Bands. This year witnessed Season 13.
Mr. Michael Guzder, Vice-President, GEMS Education, graced the event as the Guest of Honour. He opined that he was delighted to be at our physical campus to witness the musical extravaganza which has ever been the highlight of the OOB school calendar.
The four performing bands were – Vermillion, Genesis, Dynamis and Fallout. The bands demonstrated their musical prowess and impressed the audience through their power packed performances of pulsating soundtracks of the decade gone by (2010-2020).
The following were the prize winners in the respective categories - Best Guitarist - Rahul Menon of 12D; Best Performer - Omkar Ganesh of 12E, Best Band - Fallout.
Our honourable Principal and CEO, Mr. Srivalsan Murugan, made the heartening announcement that the succeeding editions of this event would be named- 'Akshay Bolar Memorial Battle of the Bands.' This gesture was to pay homage to the late Akshay Bolar, former Student Council member and an expert guitarist who lost his life in the 2010 Air India Express Flight 812 crash.
The event was a resounding success and has set yet another precedent for several other events to follow.