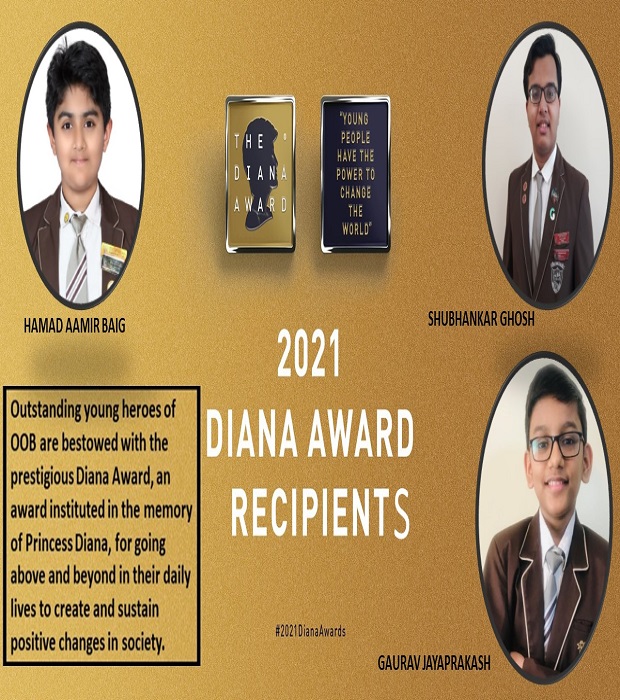 YOUNG PEOPLE HAVE THE POWER TO CHANGE THE WORLD
28 June 2021
The Diana award was set up in memory of Diana, Princess of Wales and her belief that young people have the power to change the world. The focus is on - young people and change. This award develops and inspires positive change in the lives of young people through three key programmes which include; a mentoring programme for young people at risk, a youth-led anti-bullying ambassadors' campaign and a prestigious award which publicly recognizes young people – The Diana Award.
Award recipients have been put forward by adults who know the young people in a professional capacity and recognized their efforts as a positive contribution to society. Through a rigorous nomination process, these nominators had to demonstrate the nominee's impact in five key areas: Vision, Social Impact, Inspiring Others, Youth Leadership, and Service Journey.
There are 12 Diana Award Judging Panels representing each UK region or nation and a further three panels representing countries outside of the UK. Each panel consist of three judges; one young person, an education or youth work professional, and a business or government representative. Nominations are judged using the Criteria Guide and Scoring Guide which have been created to measure quality of youth social action.
At a splendid virtual ceremony on 28th June, Shubhankar Ghosh, Gaurav Jayaprakash and Hamad Aamir Baig -Outstanding young heroes of Our Own English High School, Sharjah –Boys' were bestowed with the prestigious Diana Award.
Shubhankar Ghosh, a grade 12 student was ecstatic upon hearing the news. "Being associated with such a celebrated figure such as Princess Diana for our philanthropic work, is in itself something very valuable indeed. I wish to express my deepest and most sincere gratitude to my family, friends and mentors at the organizations I have been associated with for providing me with their whole-hearted support throughout my service journey. And of course, I'd like to thank the team at The Diana Award for providing young people like us with a platform to celebrate our efforts on such an international stage. I wish to bring about even more positive changes in our environment and work towards making our planet a better place to live in - whether it be through my anti-plastic campaigns or my work in River Rejuvenation, and inspire everyone around me to do their part towards the cause", Shubhankar said.
"I am truly honored & excited for being awarded with this prestigious award – The Diana Award, and I wish to extend my sincere thanks to the program organizers of Diana Award – UK. I received this award for my efforts to spread awareness about Breast cancer among Moms, for my participation in several campaigns like "Protect your Mom", 'The Pink Steps Challenge", and for conducting several Webinars to create an awareness about early detection that could prevent this dreadful disease. I pledge to do more work in this direction", quoted Gaurav who is in grade 7.
"I worked wholeheartedly for the community, unaware that my efforts would be picked up the Awarding Body. I am humbled that the social work I'm involved in, has gained international recognition. I thank my school and my mentor Dr Taiyaba who has considered me to be a worthy contender for the award. In my personal view, if you enjoy doing something, you will always make time for it, no matter how busy you are", said Hamad Aamir Baig.