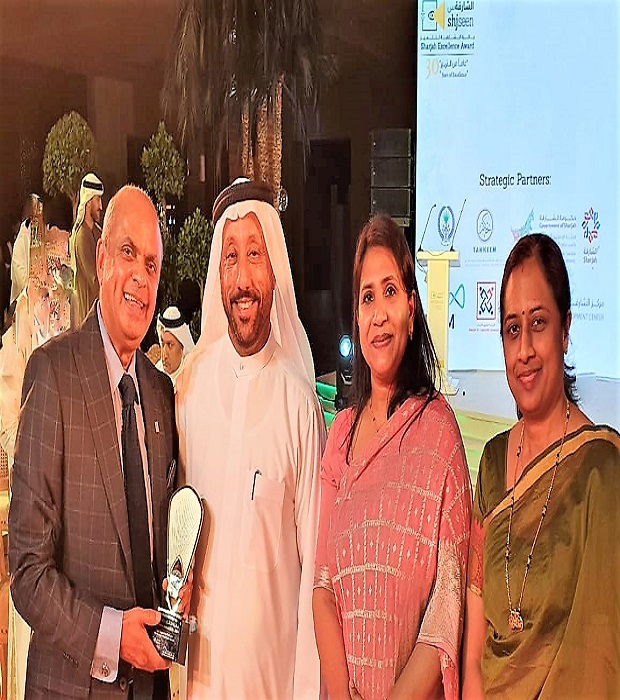 Sharjah Excellence Award under the 'Green Award' category
23 Feb 2022
Our Own English High School, Sharjah, Boys added yet another 'green' laurel in its long string of achievements as it emerged the worthy recipient of the prestigious Sharjah Excellence Award under the 'Green Award' category - Cycle 2020/2021.
The Sharjah Green Award, launched by the Sharjah Chamber of Commerce and Industry rewards organizations from the Public & Private Sectors in the emirate applying the best environmental practices. The nominations were evaluated based on an exhaustive criteria embracing the '3 R' s which included reduction of gas emissions and waste, practices which promoted sustainability, the efficacy of recycling methods, the usage of environmentally friendly materials, water and energy efficiency, Training, Safety and Employee Engagement.
The school was comprehensively assessed online by experts from the esteemed organization. The in-depth interview substantiated the evidence submitted in the form of documents, records, photographs, videos, results and their analysis.
At OOB, it's our constant endeavor to make environmental awareness and action an intrinsic part of the life and ethos of our school. Our students, teachers, non-teaching staff and parents are active partners in this enterprise. The organic garden is one such initiative and we're beginning to understand that successful gardening requires a lot of planning, problem solving and creativity giving us positive feelings of self-sufficiency and learning about self-sustainability.