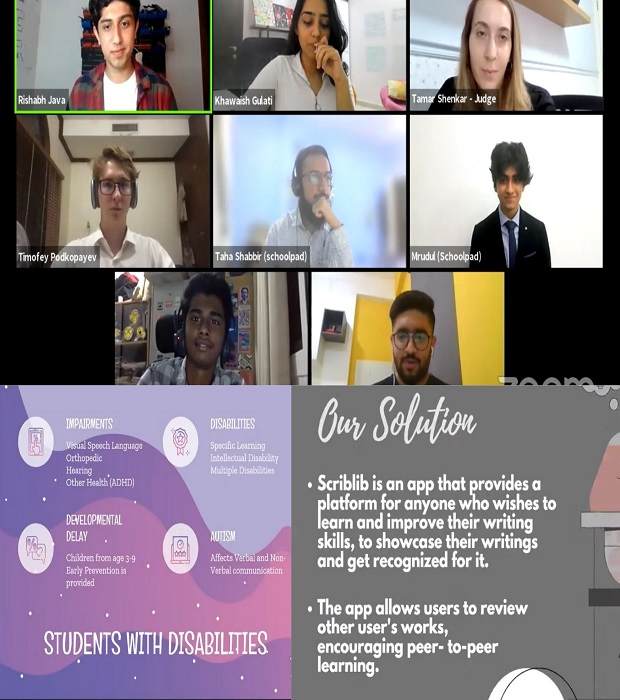 Oobites make us proud at Tanglethon
8 July 2021
The studious and tech savvy teams of OOB emerged as winners in Tanglethon – UAE's biggest virtual ideathon, an innovative ideation competition for the young talents to generate fresh solutions to an existing prominent challenge in our community. Out of 11 teams that took part, six have reached the finals, four from Senior and two from Junior categories respectively.
The finalists competed with 45+ schools from across the globe and three teams from OOB have clinched the winning positions.
Mrudul Mamtani (12A), Joy Das (12C) and Taha Shabbir (12F) topped in the Senior category for their startup SchoolPad, a crypto based school record and universal credit system which goes hand in hand with curriculum.
Ammar Abdul (12D), Muzaffar Siddique (12D), Syed Abdul Mannan (12D), Mustufa Shabbir Patva (12D) bagged the 2nd position in the Senior category for their idea Scriblib, an app which has all the novels, audiobooks, stories combined in one with various added features for promising writers.
Pranav Rajesh (11B), Joshua Joseph (11C), Gilchrist (11C) and Harsh Desai (11C) secured the 2nd place in the Junior category for their startup AweSkill, an app designed with the interests and needs of student disabilities in mind.
The winning teams will be awarded a whopping amount of 3000$ and 5000$ funding from UpNext to develop their ideas.