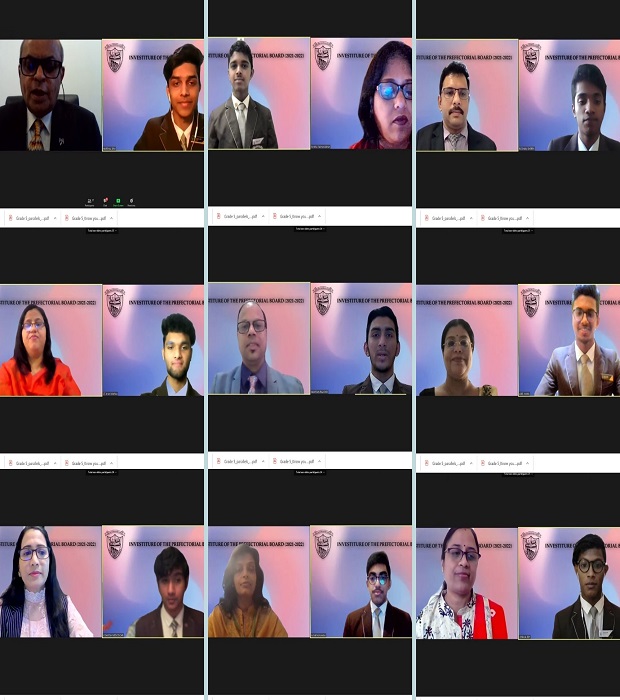 Virtual Investiture Ceremony 2021
25 April 2021
Earning Their Stripes
Celebrated retired Indian Naval Officer and yachtsman, Commander Abhilash Tomy, KC, NM, graced the Senior School Prefects' Investiture Virtual Ceremony 2021 -22 as our Chief Guest and keynote speaker.
One of the most important celebrations of the school, the investiture institutes the school's officers and prefects, charging them with the responsibilities they commit themselves to. The School's Prefectorial Board comprises a body of student leaders elected for their exemplary conduct. Not only are these students, role models, but also they are also servant leaders. They help the school in various programmes and activities . They ensure fellow students adhere to the school code of conduct and behavioural expectations. Outside of the school, they are emissaries of the school. The Prefect Badge they wear is symbolic of that status endowed upon them.
In his speech, Commander Tomy, spoke of leadership as the 'ultimate challenge' that 'pushes one to extreme limits'. This journey of leadership contains within itself immense challenges but bears manifold fruits of labour. In 2013, the commander became the first Indian to complete a solo, non-stop circumnavigation of the world under sail, and he also competed in the 2018 Golden Globe Race. Commander Tomy shared with the gathering, snippets of his incredible journey of 151 Solitary Days at Sea – incidentally the name of the bestseller penned by him.
Speaking at the occasion, our Principal and CEO spoke of how the colossal efforts of all our school and student leaders along with all team members ensured that learning never stopped and we moved, as a school, from strength to strength, achieving one accomplishment after the other to ensure that each of our boys turned out to be good role models, better human beings and best among scholars!
The newly installed Head Boy Harshal Bini in his address spoke of how the school's vision helped shaped him to become the talented young man he is today, coupled with the opportunities that are provided to each pupil in school. The vote of thanks was proposed by the Sports Captain, Abel Makil.
Amogh Arun
Secretary, Student Council