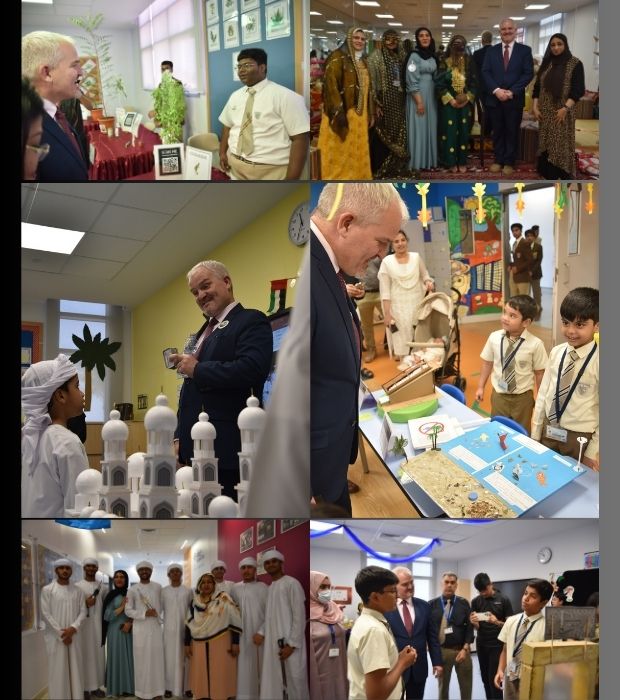 Sustainability and Innovation Village – SparkX the Change
23 Sep 2023
The 6th edition of SparkX 2023, was inaugurated by SPEA (Sharjah Private Education Authority), School Improvement Advisor, Mr. Johannes Bodenstein, our Chief Guest, along with our Principal and CEO, Mr. Srivalsan Murugan and the Senior Leadership and Management teams, amidst much celebration, festivity and pomp.
Themed, 'Sustainability and Innovation Village – SparkX the Change' the bi-annual event, held onsite this year, has been much anticipated and awaited. With over 550 projects done by 1600 students, the festival celebrated and championed innovation, robotics, art, science, technology, math, the languages, culture, literature and much more.

Students from Kindergarten through to grade XII, mentored by their teachers, presented various digital exhibits, models, displays and cultural programmes. Preparations for SparkX commenced even before the summer vacations. Once school resumed post-summer vacations, work on the models and displays for this mega-event, was on in full swing. It was indeed an amalgamation of the 21st century skills we seek to develop in all our pupils.
This exhibition provided a medium for inculcating the interest in different subjects and bringing a colossal awareness among stakeholders, especially with regard to the close relationship between the subjects and their real-life application in society.
Speaking at the inauguration, Mr. Bodenstein said, "I congratulate the Principal, staff, students and parents of Our Own Boys, for presenting this great opportunity for learning and showcasing the talents of the students."
Adding to the thoughts of the guest, Mr. Srivalsan Murugan stated, "Every prospect presented to our boys, is a learning opportunity which must be seized and utilized for maximum benefit." He added, "learning never ceases and takes places at all times and in all places – in the classroom, on the sports field, in everything that we do."
Subject Heads of Departments, along with the Assistant Heads and grade level coordinators of all subjects, worked as one team to ensure that the marvelous and amazing exhibits, created by the students, which were on display, not only challenged the intellectual and creative pursuits of the students, but also were of a high quality. The exhibition spread over 72 rooms and several open spaces, subject and club-wise, giving out only one message – challenge the learners today and they will not only produce work which is par excellence, but also demonstrate their inherent, latent talent.
Our school has 19 clubs which are rich learning grounds where students sharpen their skills as per their interests. Through SparkX, each club along with its members presented their work highlighting their individual club specialties – robotics, dramatics and mine, literary works, an eco-friendly fashion parade, a thought-provoking Majlis Al Talaba – this exhibition was a colossally successful one. The overall ambience was created by the talented students and mentors of the Art Department.
The exhibition witnessed a footfall of around 1500 odd visitors.
Echoing his thoughts, Mr. Faizal A. Kandy, Chief Coordinator of the multi-disciplinary power-packed event reported, "SparkX is a forum for students to showcase and celebrate their innate talents in the form of their creativity, innovation, inventiveness, artistic work, technological, and verbal expressions."
A cultural extravaganza of thirty minutes, displaying the prowess of both our students and staff was held in the Sheikz Zayed Multi-purpose Hall, throughout the day at intervals. Each show was a packed one and at the end of each show, a fresh set of parents and visitors were already in line, awaiting to witness the next one. It was a continuous loop.
Echoing the sentiments of the parents, a Parent Advisor Council (PAC) member opined, "It was a mind-blowing experience to see the hundreds of projects and the expertise of the pupils. We parents would like to thank this great institution for the opportunities given to the boys. Thank you teachers and Team OOB."
Speaking on similar lines, another PAC member expressed his thoughts and said, "It is encouraging to see and hear our boys at such a young age, displaying their innovative and creative skills, while also adhering to sustainability and mapping the UN Sustainable Development Goals in their prototypes and exhibits."