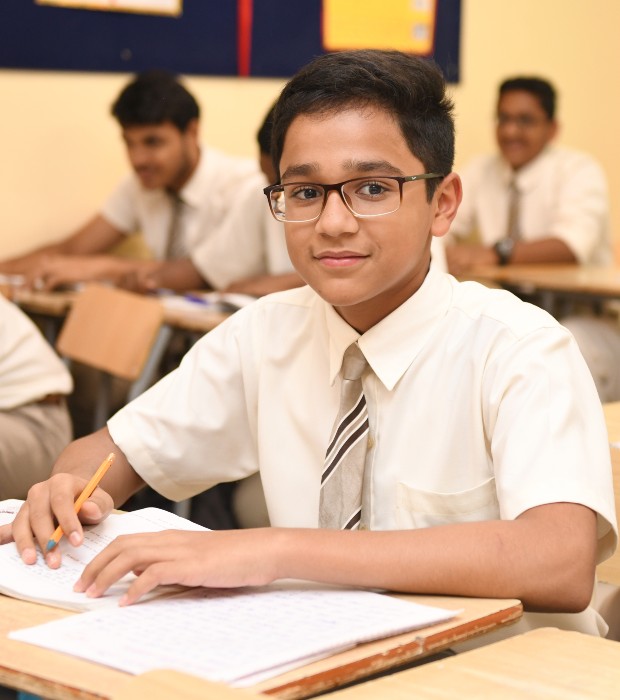 School History
Every child has promise surmises the guiding philosophy of Our Own English High School, Sharjah - Boys' as it continues its march of excellence ; thus emerging as the most sought after boys' school in the emirate.
The Beginning & Expansion
The journey of moulding curious and creative minds had humble beginnings. Our Own English High School, Sharjah was established in 1982 and moved to the purpose built Muwaileh Commercial campus in Sep 2007. Opening a new purpose built campus for boys in 2007, the story of success of Our Own Sharjah is a feted tale of inspiration wherein dreams, thoughts and action took flight on wings of fire. It commenced chronicling its laurels and accolades by launching the first edition of the school magazine 'We'. Its current location at the state of the art Juwaiza'a campus in April 2019 is truly a source of much envy and pride.
The School is affiliated to the Central Board of Secondary Education, New Delhi and accordingly prepares children for All Indian Secondary School Examination at Grade 10 and the All India Senior School Certificate Examination, at Grade 12 level, conducted by the Board.
Becoming part of GEMS
Academic Excellence has always been the forte and the brilliant CBSE Board results year on year bear testimony to this. Our students find easy berth in reputed institutions of higher education. The much raved about Annual Concerts, TedXOOBSchool, School Exhibition- SPARKX, Inclusion and Career Counselling, learning through activities, Language Weeks, the myriad hubs and clubs to sharpen the acumen and talents of the student community are integral in this holistic journey. Conferences, Workshops and Training aimed at continuous staff development play crucial elements. The achievements of OOBites at both National and International events reflect the giant strides of the revered alma mater in the educational arena.
A quantum leap in growth actualized with the school becoming a part of the Global Education Management System (GEMS) in the year 2003. This ingenious vision of Chairman, Dr. Sunny Varkey, encompasses one of the most important core values of GEMS – that of aspiring to mould our students into responsible global citizens and impart 'Education for Life'.
A fusion of the unstinted support, endless magnanimity and clear vision of Dr. Sunny Varkey, Chairman, GEMS, Mr. Dino Varkey, CEO, GEMS, the expertise of the GEMS fraternity, our visionary Principal & CEO, Mr. Srivalsan Murugan, the passion and purpose of the staff that is unequivocally committed and the vibrant partnership of the parents and students is what makes Our Own Boys' - Sharjah an institution where the march towards excellence is ongoing as we endeavor to transform our boys to men who matter.