Student Activities
Investiture Ceremony
Solemn occasion where all the young students are prepared to don the mantle of leadership and discharge the responsibilities entrusted upon them by the school. Our school acknowledged the budding young leaders and reposed the trust in them. The leaders are bestowed with the responsibility of leading their team with commitment, confidence and competence.
School Concerts
School Concerts - (Primary and Senior) provides students with the opportunity to engage the mind, the body and emotions into a collaborative expression. The children perform on inspirational & powerful themes which encourage self-reflection and stimulate their thought processes. It is a platform for children to showcase the various skills.
Sports Day
We encourage children to participate in a variety of games and sports. It gives an opportunity to showcase their skills in athletics and field displays .Exposure to individual and team skills through competitive sports inculcates a sense of sportsmanship, leadership, a school-wide community spirit, a feeling of individual accomplishment amongst students and memories to cherish. The focus is on participation and not just winning.
Annual Prize Day
Skill, perseverance and commitment which enables one to reach the pinnacle of success .Recognition of such attainment is significant as it serves as an encouragement and motivation to one and all. In keeping with this spirit the top achievers are commended and recognized.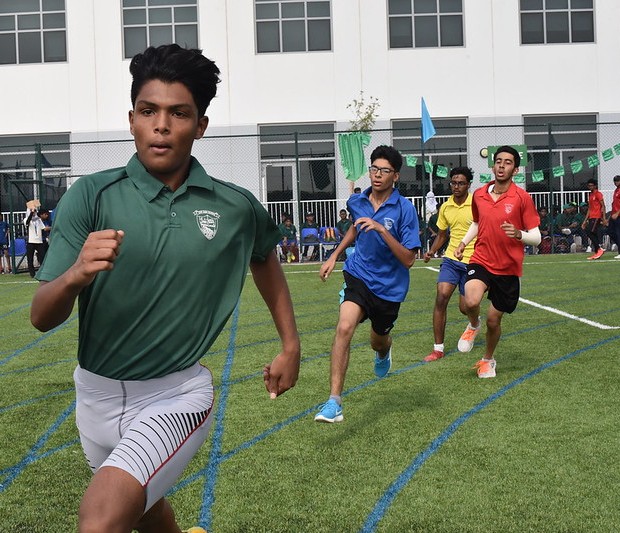 Radio OOB
An in-house entertainment channel that is by, of and for the students of the school. It encourages creativity through conceptualization and execution of original, informative and entertaining programmes, providing students a unique forum to boost their confidence and public speaking skills.
Synergy
As we know that in each student there will be a hidden talent and our intention is to find the hidden talents and to motivate them. Students explore their talents in various fields such as instrumental music, solo songs, group songs and dance in a competitively healthy manner, teaching them to respect all gifts in every way.
Colloquium
Descartes is the guiding philosophy behind the innovative initiative of The Colloquium. This serves as a vibrant platform for discussion, deliberation, debate and reflection on global issues for our students, enlightening and engaging the thoughts and views of the future leaders.
Subject Weeks
It is one such unique annual academic feature where in every student participates for different activities and they achieve a sense of contentment and success, stimulating language learning skills, cooperation, interaction, reflection and communication.