The Duke of Edinburgh's Award
The Award equips young people for life and work.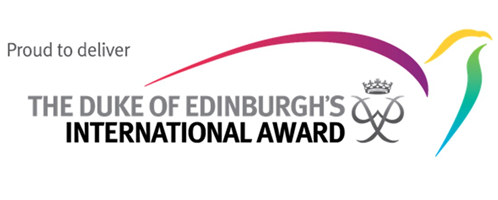 Not all learning happens in the classroom. Young people need experiences outside the classroom to become committed, responsible and fulfilled citizens of the world.
The Duke of Edinburgh's International Award is available to all 14-24 year olds and is the world's leading youth achievement award. It equips all young people for life regardless of their background, culture, physical ability, skills and interests. Doing the Award is a personal challenge and not a competition against others; it pushes young people to their personal limits and recognizes their achievements consistently.
Since its launch 60 years ago, the Award has inspired millions of young people to transform their lives. Through non formal education, the Award can play a critical role in a young person's personal development and is achievable by any 14-24 year old who wants to take up the challenge.
The Award Framework
The Award is comprised of three levels and four sections. Participants complete all four sections at each level in order to achieve their Award. At Gold level, participants also complete a Residential Project.
| | | |
| --- | --- | --- |
| Level | Minimum Age | Minimum Participation |
| Bronze | 14 years | 6 Months |
| Silver | 15 years | 12 Months |
| Gold | 16 years | 18 Months |
Why is The Award particularly significant to OOB students?
Our Own English High School, Sharjah Boys' Branch aligning with the mission statement of the Award Program; to connect with the community, inspire change and thus impact the world has left no stone unturned in extending an array of activities to the participants. The plethora of clubs functioning in the school like Sewa, Dance, Environment, and Science provide ample opportunities not only to display their latent skills, but also to hone and refine them.
These Club sessions organised after regular school hours conducts contests competitions, training sessions which the DofE participants utilize to the maximum. Innovative initiatives like Generation Global, the Colloquium help to connect to the world around through discussion on pertinent issues. The conscientious young men avail of every opportunity to extend a helping hand to the community through their innate talent and skills thus being harbingers of hope and change. Tomorrow truly belongs to them!
Adventurous Journey Section
This Section of The Award encourages a sense of adventure whilst undertaking a team journey or expedition. As part of a small team, participants will plan, train for and undertake a journey with a defined purpose in an unfamiliar environment.
The journey can be an exploration or an expedition but must be a challenge. The aim of this Section is to provide participants with the opportunity to learn more about the wider environment, as well as to develop their self-confidence, team work and health. Participants are taken out of their comfort zone but kept within a safe and secure setting, achieved through suitable training and supervision.
I hope you think of The Award as an opportunity to explore your areas of interest and demonstrate how you can contribute your talents and skills to the wider community.
Do you want to know more about The Award? Ask Mr. Joepaul Nalppatt or Mr. Shuhail Thayyil and take a look at the following website www.intaward.org
Mr. Joepaul Nalppatt - Award Coordinator
Mr. Shuhail Thayyil - Award Leader