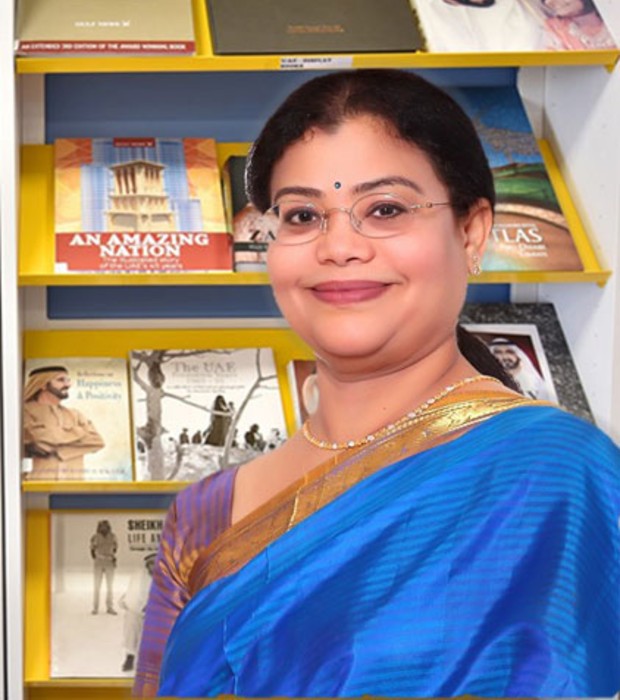 Ms. Bindu Gopalakrishnan
Head of Section – Middle School
If one may borrow a verb from Bloom's Taxonomy to describe Bindu, one would surely look at the highest levels of his grid to portray her – best as a creator. The behind-the-scenes, silent worker, is best known for the senior school in-house concert productions – each one which has been a super hit, year in year out.
Oliver Twist, Spartacus, Gandhi… you name it and Bindu has created it – working alongside the senior school boys and teachers alike. She brought much joy to the audience and boys with her stage creation of Ratatouille, the primary school concert.
Having joined the GEMS group in 2002, Bindu has a Masters in English along with a Bachelor's in Education, with over 16 years of experience as an educator.
She joined the Our Own English High School, Sharjah, Girls' as a teacher and later moved on to GEMS Millennium School in 2010 to assist in establishing a new school – once again drawing strength from her creation skills.
Both, the boys and the staff draw strength from her areas of expertise, in external examinations such as ASSET, TIMSS and CAT4.
Having won the Teacher of the Year Award twice, she has also been the recipient of the GEMS Core Value award for exemplifying the GEMS Core Values.
Bindu propounds to all her boys that it is important to work towards being significant and success will naturally follow.