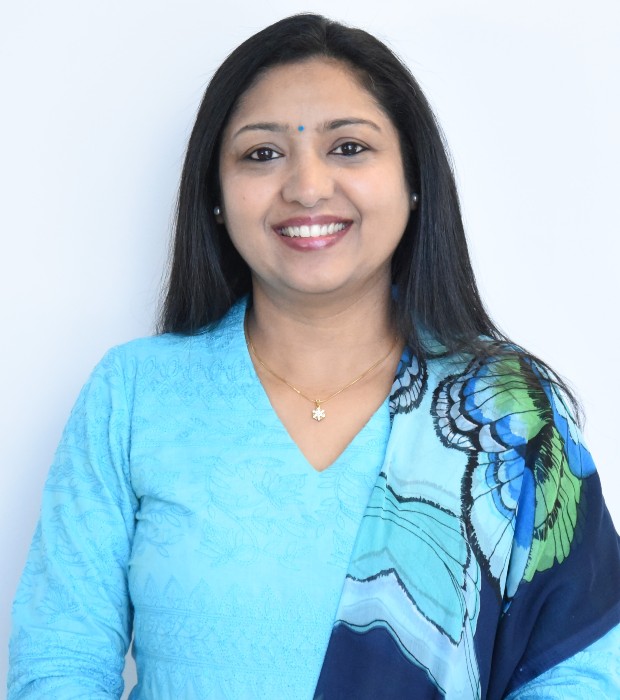 Kavitha Nair
Walking the Path with a Heart
Ms. Kavitha Nair joined OOB in 2006, a journey which started as an inspiration from her mother. The Secondary school Chemistry teacher says, "My mother is a strong lady with a firm conviction that all women should have economic independence as it gives them confidence, a sense of self-worth and also positively impacts the attitude of those around."
Ms. Kavitha's mother has also been a teacher. Ms. Kavitha opines, "I have seen how even today some of her students visit her and appreciate her for the kind of difference she had made in their lives."
"The main reason I decided to become a teacher," adds Ms. Kavitha, "is because I have always had a real passion for science and the desire to pass this on to help younger people develop an interest towards it."
She delights in teaching children, because "it is like being endowed with perpetual youth. The love, laughter, mischief, creativity and imagination of children are like an eternal fountain of joy and vitality."
Ms. Kavitha believes that other than parents, 'teachers have arguably the biggest influence on a child's life.' She feels a sense of pride even as she sees 'the visible results in her students'.
Each child for her is 'a special creation to be nurtured, to be handled in a way which is never the same.' According to her, 'each day unfolds a new learning experience', and 'there's no juncture in a teacher's life' where she can claim 'she has reached her zenith.'
Shaping the world of tomorrow
Ms. Kavitha states that "a teacher is occupied in building the personality of a student in order to equip him to face the challenges of a competitive world in the throes of transition and change." This way she has been 'able to fulfill' her soul's craving to contribute in shaping the world of tomorrow.
She further appends, "Each day I wake up with a song in my heart, each day I walk with a lighter step, each day I feel elevated to higher levels of awareness because each day brings with it a set of new challenges and new situations to be tackled. Each day becomes a harbinger of a new dawn of hopes and expectations, of possibilities unanticipated, of experiences untold, of dimensions manifold."
The outstanding educator believes that 'teaching a student how to negotiate life both inside and outside the classroom', is of grave importance, as 'advocacy is an essential part of a teacher's vocation.'
She feels that when teachers advocate for their students, their actions convey to children a message that the teacher cares about their well-being and creates a positive bond between teacher and student. "A strong student-teacher relationship", says Ms. Kavitha, "will create mutual trust and respect."
She concludes by saying, "A good student is one who has a love for learning, a passion for knowledge and a hunger to develop and grow, not only academically, but otherwise; one who has a growth mindset, is organized, punctual, honest, diligent, consistent and persistent, able to connect learning to life, sets goals and values education."