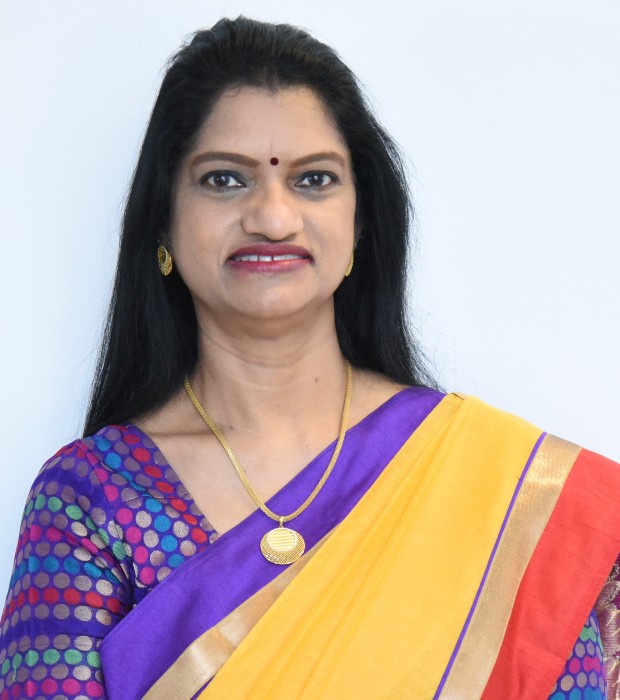 V. Jayashri
Creating a Future Generation That Will Uphold Values
When becoming a teacher is not by design but by default, then the challenge is greater – yet when one begins to love what one gets to do, with a passion newly found, the meaning of life acquires a new lead.
This is precisely what took place in the teaching-learning journey of Ms. V. Jayashri.
She says, "Teaching was not my first choice, when I was in school. I wanted to join the airlines. While studying in college, I got selected as an air hostess but for personal reasons I could not join."
Yet by design, she 'chose to take up the teaching profession', whilst pursuing her higher education.
Subsequently, she was selected as teacher in Mount Carmel Convent in Chandrapur, Maharashtra. For the last two decades she has been with the Our Own family – a journey, she recollects which has 'been quite enriching'.
An enriching journey
Ms. Jayashri adds that this journey, 'has broadened' her outlook, even as our school is a pioneer in innovations in teaching, it has helped her to develop herself.
The Social Studies teacher agrees that teaching is "a challenging profession, as one needs to constantly update oneself in new fields and pedagogies." Yet she appends that "nothing encourages us to continue to learn more about a topic than when we are teaching it."
Her hobbies include reading, gardening and watching movies; as she consciously strikes 'a balance' between her personal and professional life. She says, "I compartmentalize them and give equal importance to both."
As the teacher-in-charge of Student Council, she has been instrumental in motivating the Council to undertake memorable events line the Battle of the Bands, Clothes for Compassion, Books for Beneficiaries among others.
The secondary school faculty member states, "It is heartening to note that while performing the tasks for these activities the council members learn to be responsible and lead others."
Her advice to the aspirants who are pondering over pursuing teaching is, "Teaching is a vocation that keeps your mind agile all the time because as you strive to be a good teacher you are simultaneously enhancing your knowledge. Besides, you get the ultimate satisfaction of creating a future generation that will uphold ethical values and will contribute positively to society."