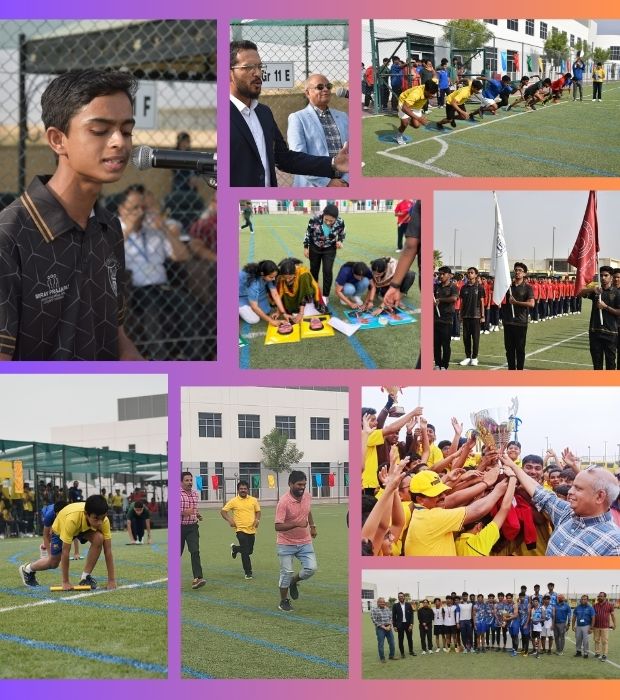 Annual Athletic Meet, 2023
26 Oct 2023
Lights, Torch, Action! Athletic Meet, 2023 Ushers in a Day of Thrills and Unity!
Amidst a vibrant burst of energy, and in a spectacular display of unity, sportsmanship, and athletic brilliance, OOB witnessed the much-anticipated Annual Athletic Meet 2023 beneath benevolent skies on 26th October, 2023. The school's sports arena became a buzzing hive of excitement for all who witnessed this sports extravaganza. The event took on an aura of significance with the presence of the distinguished chief guest, Mr. C.P. Rizwan, a legendary figure and the former captain of the UAE National Cricket team.
The event unfolded with passionate speeches, recitation of verses from the Holy Qur'an, and an inspiring welcome address, creating an atmosphere of anticipation and unity. Additionally, the torch relay ceremony, symbolizing the light of spirit, knowledge, and life, added to the event's grandeur, paving the way for a day filled with exhilarating competitions, heartfelt oaths of sportsmanship, and the official March Past of athletes from the four houses, underlining the essence of coordination and teamwork. It was a day that celebrated not only athletic achievements but also the values of respect, unity, and good sportsmanship that will be remembered long after the trophies have gathered dust.
As the curtains fell on the event, Saturn House ascended to the summit, emerging as the undisputed champions of the Annual Athletic Meet 2023, a testament to their outstanding performance and teamwork.
With the sun setting on the Athletic Meet 2023, it's not just the scores that matter, but the enduring lessons of teamwork, sportsmanship, and unity that will stay with us. It was a day that showcased the true essence of OOB's commitment to holistic education.