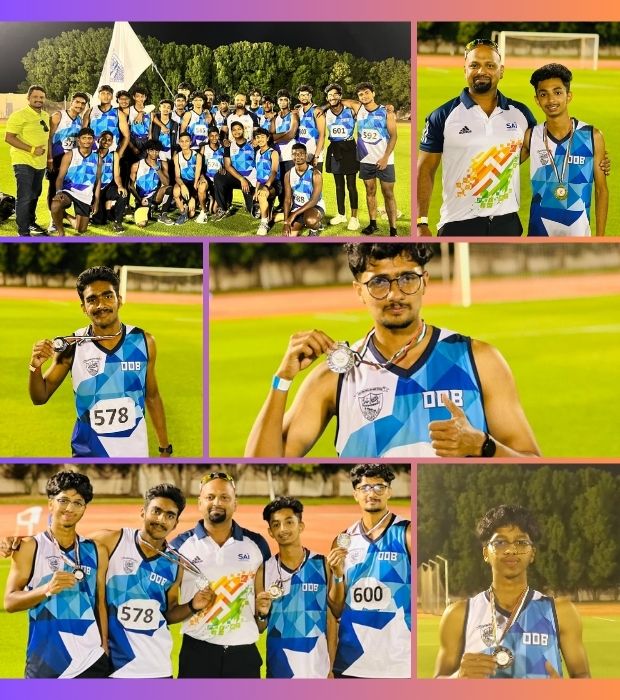 OOB Athletics Shine Bright at UAE CBSE Cluster Meet 2023
Twenty-seven athletes from OOB showcased their prowess, displaying unwavering dedication to secure commendable results at the UAE CBSE Cluster Athletic Meet 2023, held at Al Ain Sports Club. In a fierce competition featuring fifty schools in the boys' division, our athletes came home with several medals.
Rayhan Shafi Syed (12D) claimed gold in the U-19 boys 800M, while Joel Jaison Cheruvathoor (11B) bagged a silver in the U-17 800 mtrs. Shamil Abdul Saleem (12A) excelled in shot put, securing a silver in the U-19 category, whilst Sayed Kabeer Mohideen (12G) clinched bronze in the U-17 high jump. Nihal Shajahan Oravil (12C) achieved 4th place in U-19 high jump, and Zahid Rejees (12C) secured 4th place in the U-19 boys 400-meter event. Arfaan Siddique (12F) and Sharan Sathvik (8A) both secured 4th place in the U-17 and U-14 boys shot put respectively.
Despite strong competition, Team OOB claimed the fourth spot in both the 4x100mtrs and 4x400 mtrs relays in the U-17 category. The athletes' sincere efforts, coupled with the guidance from the Sports Department, resulted in a day filled with sportsmanship, enthusiasm, and pride for our school. The achievements at the meet reflect not only individual excellence but also the collective spirit of Team OOB. We look forward to celebrating more triumphs in the future.