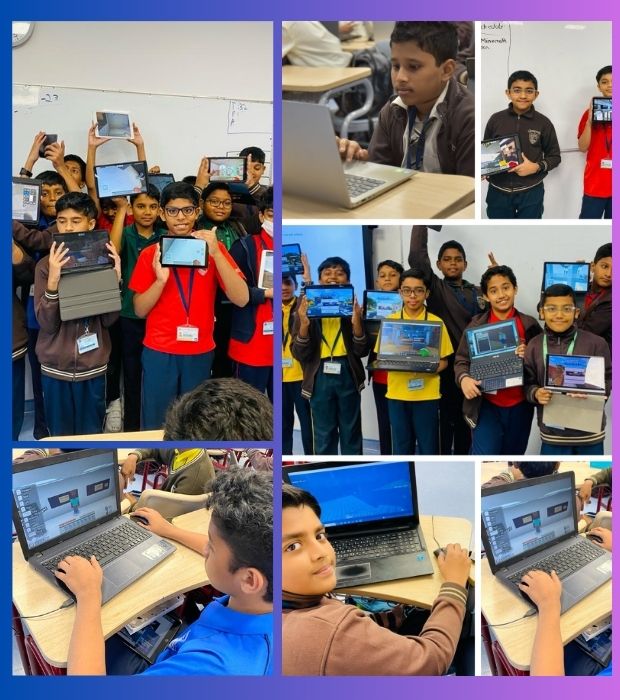 The Cyber Defense Day
16 Nov 2023
Under the esteemed patronage of His Excellency Dr. Mohamed Al-Kuwaiti, the UAE Cyber Security Council, KPMG, and Core42, in collaboration with our strategic partners - the Education and Human Resources Council, Ministry of Education, Emirates Schools Establishment, Department of Education and Knowledge, Sharjah Private Education Authority - the school proudly hosted Cyber Defense Day on November 16, 2023, Thursday. The event saw active participation from students of GEMS Our Own English High School, Sharjah Boys focusing on Middle school students from Grades 5 to 8.
On the 16th of November,2023, students actively participated in immersive and educational Cyber Defense Day activities. The primary objective was to provide students with practical insights into cybersecurity concepts, fostering a sense of responsibility and awareness.
The event specifically targeted Middle school students, encompassing Grades 5 to 8. This deliberate focus aimed to provide age-appropriate content and activities, ensuring maximum engagement and effectiveness.
Cyber Defense Day is aimed to empower students with essential online safety skills through a series of interactive classroom activities. This included a captivating gamified experience using Minecraft games, strategically designed to reinforce critical concepts such as password protection, social engineering, and responsible online behaviour.
Cyber Defense Day sought to enrich students' understanding of cybersecurity concepts through interactive and enjoyable experiences. The event utilized Minecraft games as a platform to teach students about password protection, social engineering, and responsible online behavior.
A heartfelt thanks are extended to Ms. Rasheeda Budankhan, Mr Aji Joseph, Ms. Jenny John, Ms. Lucy George, and Ms. Sheryl Sebastian for their unwavering commitment and outstanding contributions to the success of Cyber Defense Day activities. Their dedication and enthusiasm significantly enhanced the students' learning experience.