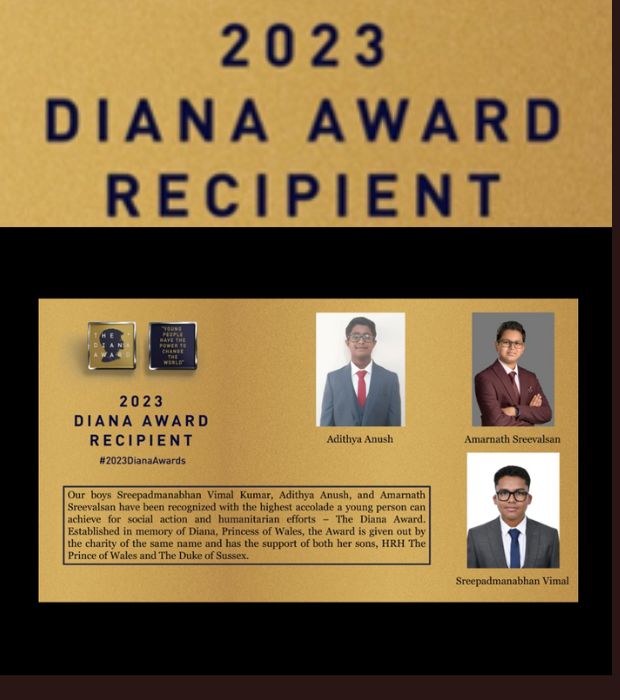 Outstanding Three Bestowed with the Prestigious Diana Award
It is indeed a moment of pride and joy as three outstanding young heroes of OOB, Amarnath Sreevalsan, Adithya Anush and Sreepadmanabhan Vimalkumar have been bestowed with the prestigious Diana Award 2023, in a much-celebrated online event, watched by thousands of viewers.The award instituted in the memory of Princess Diana, recognizes young people who go above and beyond the call, in their daily lives, to create and sustain positive changes in society
Amarnath Sreevalsan believes in the maxim that one should 'be the change' that one 'wants to see' and holds this very dear to his heart. His actions speak louder than words, as he is a self-motivated change maker in his own way. His deep respect for the environment propels him to engage himself in environment related activities such as cleanup drives, awareness sessions, afforestation mission.
"A plastic free world is not a choice but a commitment to life", states the youth as he works towards a clean and plastic free environment which is essential for healthy living. He envisions a zero plastic waste society and looks forward to a green future.
A humanitarian at heart, his motivation stems from his dire concern for the betterment of the people around him. He aspires to change the life of the underprivileged through initiatives that impact the quality of life. Expressing his solidarity for the victims of recent earthquake of Turkey and Syria he offered his time and efforts in collecting donations, sorting and delivering at the collection points.
Amarnath voices his thoughts as he says, "Every human has the right to lead a life of dignity. To lend support towards a just cause is truly empowering the people who live in the fringes of society. We can do so by supporting them in myriad ways thus enabling them to climb the rungs of the social ladder."
He sees all of this as an opportunity to learn, grow and develop new skills thus creating a positive impact in the lives of people around him – becoming a good role model and a better human being, manifesting the vison of the school.
Adithya Anush loves to explore nature. The core of this work pivots around the importance of sustainability. He is a firm believer in 'the power of education' to change people's lives. His Edu Mission project aims to mold under-privileged students in society into respectful citizens.
"Thousands of tribal students in India are struggling to complete their studies due to inadequate facilities. The mission is to improve the living conditions of tribal students by constructing a peaceful and resilient society", states the young man.
To meet their basic needs of these students Adithya distributed educational materials, toys, clothing, mats, groceries, tarpaulins, and COVID protection kits.
He states, "I believe that every human being has a right to lead a respectful life and to make a change in their living conditions, each one only requires the support in their education and help in their upliftment."
With the arrival of the monsoons in India, these people's hardships and struggles intensify. Because they are constantly under the threat of landslides and storms and are confined to their homes due to poverty and diseases. He understood that the main and immediate requirement thus made all arrangements.
Adithya conducts sessions and workshops on a variety of subjects to create awareness about the need of education, health and hygiene. All of this piqued their interest in studies. He has already helped over 400 students over the last four years and will continue to do so.
Commenting on the impact of the work being done, Adithya says, "I have noticed a positive change in the lives of these students as they developed an interest in academics."
Adithya shows his support for the tribal community by expressing solidarity, providing financial assistance, educational resources, and instilling hope in the community. Among some of the charitable assignments undertaken he has donated blankets and essentials to express his solidarity for 'Bridges of Goodness' projects by Emirates Red Crescent for the relief of earthquake raven people of Turkey and Syria. It gives him a sense of accomplishment and fulfillment by indulging in various initiatives to bring about a change in people around him.
Sreepadmanabhan Vimalkumar works earnestly towards the upliftment of the underprivileged, and his sense of volunteerism resonates in his avid participation in different organizations. His eagerness to educate the public about health and wellbeing is clearly highlighted in the myriad ways he reaches out to the public.
The cause of conserving the environment is close to his heart with plant distribution and collection drives. He has transformed from an ordinary student to a charismatic leader, an influencer within a short period.
Sreepadmanabhan believes, "The importance of education lies in the fact that it should positively impact the community."
He adds, "As a change maker, that without unity and like-mindedness, no changes can be brought to the world. This is the reason I always encourage my peers to continue various activities, according to their different interests."
Sreepadmanabhan is convinced that each of us has a responsibility to protect the planet that provides us with everything. He opines, "As we look around us we can see how harmful human activities are wreaking havoc on the ecosystem."
He feels that if each of us decides to do our part, the world can be transformed into a better place, similar to what it once was. This is the most significant benefit that someone may acquire.
Commenting on this work he says, "Waste disposal poses a significant hazard to society, which is why I began participating in environmental activities such as cleanups and recycling efforts."
The greatest benefit he received was his sense of accomplishment and pride after he had contributed to the rescue effort. "I have also developed knowledge about respiratory viruses and the importance of hygiene through various courses by WHO, which has further helped develop a deeper concern and care for society," reports the young man.
Sreepadmanabhan has gained a great sense of responsibility in initiating campaigns to successful completion, overcoming hurdles and challenges on the way.
OOB is proud of these heroes.