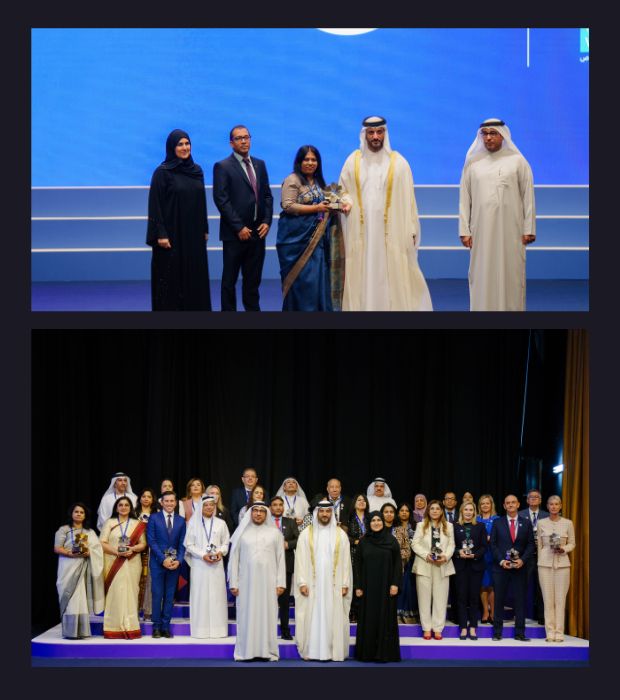 OOB Receives 'Very Good' rating in the Itqaan review
21 May 2023
At a glittering ceremony held at the Sharjah University City Hall, Vice-Principal Ms. Sindhu P. Nair, accompanied by the head of Senior School, Mr. Faizal A. Kandy, on behalf of our school, received a handsome trophy from the Deputy Ruler of Sharjah, His Highness Sheikh Sultan bin Ahmed Al Qasimi, on being rated as 'Very Good' by the Sharjah Private Education Authority (SPEA).
SPEA's Itqaan review programme placed our school amongst nine other schools in the 'very good' rating after having evaluated 110 private schools in the emirate of Sharjah in the previous academic year. The Itqaan programme results ceremony was organized by SPEA to honour the distinguished schools of the emirate.
Speaking at the occasion, Ms. Sindhu said, "We are deeply honoured by this prestigious recognition given to us by our regulators and place on record, with humility, our gratitude, to the Almighty for his blessings He has bestowed upon us."
She added, "We receive this award on behalf of the GEMS fraternity, our Principal and CEO, Mr. Srivalsan Murugan, the senior leadership and management teams, our staff, students, parental family and well-wishers at large who are the true recipients of this award and without whom this would not have been possible."
Spread across four days, the review committee and its seven reviewers, visited the school in November 2022 studying its operations and workings, guided by the six performance standards of the Unified Inspection Framework namely: students' achievements; students' personal and social development, and their innovation skills; teaching and assessment; curriculum; the protection, care, guidance and support of students; and leadership and management.
The results were based on the team's observations of 210 lessons, of which 25 were carried out jointly with school leaders.
"We will continue in our journey towards excellence, focusing on the key areas which have been suggested by the team," opined Ms. Sindhu and said, "for the march towards 'Outstanding' has commenced and is a continuous process, which will fuel our passion and commitment."