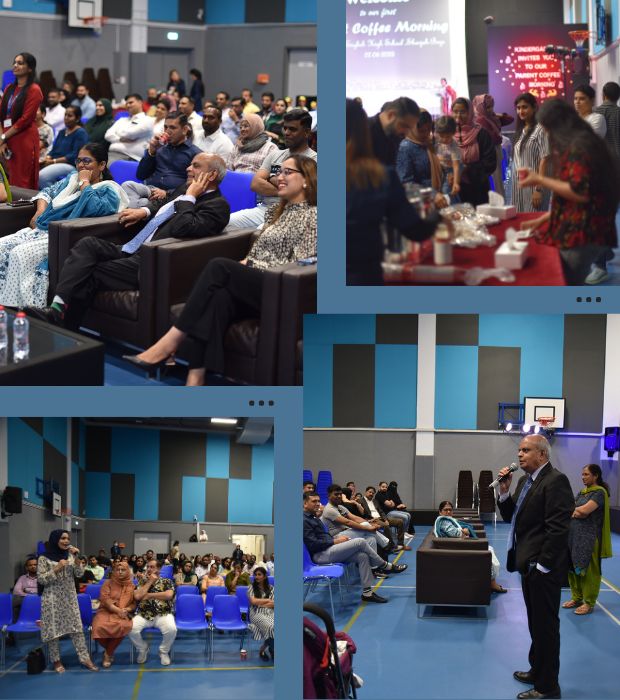 Parent Coffee Morning
07 June 2023
At OOB, we believe that strong parent-school partnerships contribute significantly to a child's success, well-being, and overall development. In this regard, the Kindergarten department hosted its first 'Parent Coffee Morning' for this academic year. This event took place on Wednesday, 7 June 2023 in the Sheikh Zayed Multipurpose Hall.
Our student speaker representatives of KG2 addressed the gathering on this special and happy occasion. Our boys also shared their experiences about what makes Kindergarten a happy happening place in school for them.
The event was later addressed by our very own Principal & CEO- Mr. Srivalsan Murugan, followed by the Vice Principal- Ms. Sindhu, Head of Section- Ms. Priya, and Supervisor- Ms. Raisa. During the course of the session, the parents were provided with an overview of the curriculum in order to give an understanding of the child's learning throughout the year and with some important information about the school's extracurricular activities. Key discussions focused on building support networks, effective parent-teacher communication, promoting student well-being, and enhancing parental involvement.
A dedicated segment of the event was allocated to an open forum discussion where parents had an opportunity to voice their concerns, ask questions, and provide feedback on various aspects of the school community.
The Parent Coffee Morning proved to be a successful and engaging event. The event served as a catalyst for ongoing collaboration and highlighted the importance of parental engagement in the educational journey of their children.