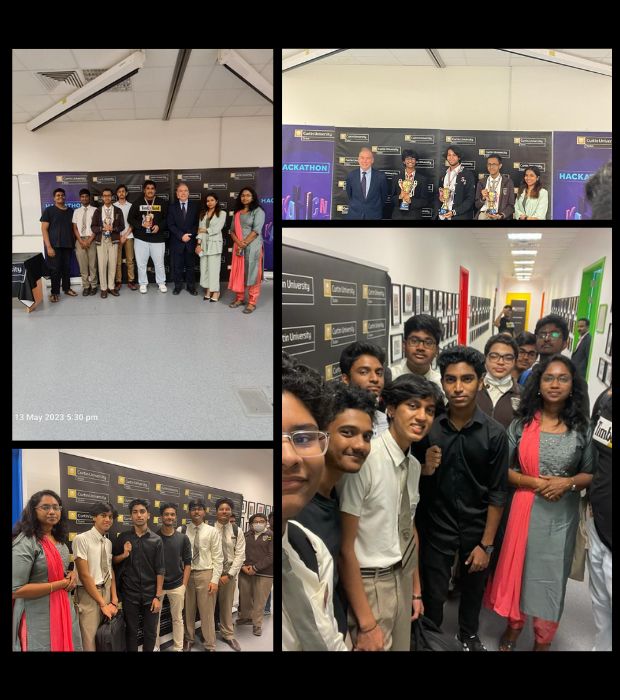 OOB Coding enthusiasts wins at the inter school and university students' Social coding Hackathon,2023
Our Own Senior boys aced with a momentous victory with their exemplary coding skills at the Curtin University Coding Hackathon, Dubai. The three rounds of programming challenges, included a written test, programming in Python, and web development. It's commendable that our students excelled and made it to the final round. Being a part of such a prominent competition alongside hundreds of students from schools across the United Arab Emirates demonstrates the calibre and talent of our school's coding champs. Suraj Kumar Singh (12B) achieved the Second Runner-Up Position in this Coding Hackathon. This is a significant accomplishment, highlighting his exceptional programming skills. He was awarded with a trophy and a medal.
Madhavan Dinesh (12B) & Chandhru Ramamoorthi (12D) demonstrated outstanding performance and made it till the final round while Fahad Siddiqui (12B) reached till the penultimate round.
Curtin University is ranked among the world's top one percent of universities and this Hackathon is the biggest social coding competition for high school and university students in the UAE.
A special word of appreciation to Ms Sunitha Sudhakaran of the IT Dept for all the assistance and encouragement. Congratulations to Suraj Singh! We hope to celebrate many more achievements!