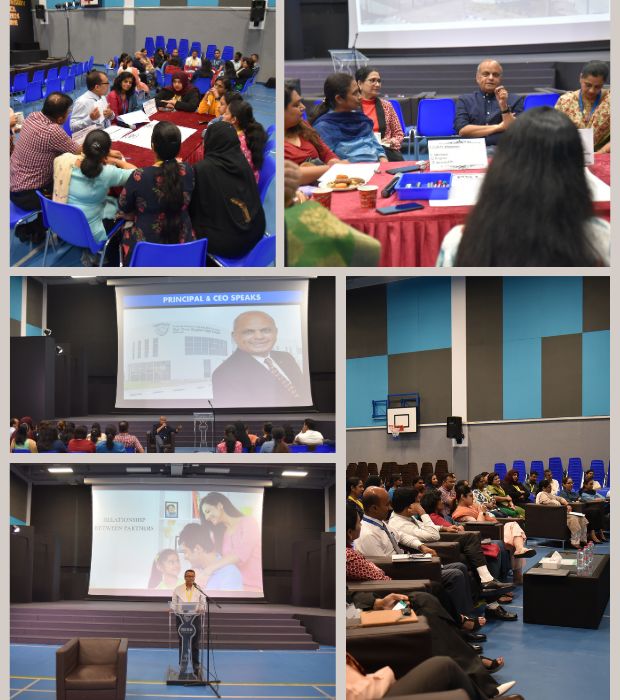 PARENT ADVISORY COUNCIL MEETING
1 June 2023
On June 1, 2023, the Parent Advisory Council (PAC) convened a meeting at Sheikh Zayed Multipurpose Hall, Our Own English High School, Sharjah - Boys. The meeting was chaired by the Principal. The attendees of the meeting were the Vice Principal, Section Heads, Supervisors, and Parents.
The session began with Mr. Srivalsan Murugan, the Principal & CEO initiating the meeting and providing updates on the school's achievements and upcoming events. Mr. Chummar John Mathew a parent representative presented an insightful and engaging session on practical tips for parents and the art of effective parenting.
To ensure active participation and to seek parental opinions on the School Self Evaluation (SEF), the Senior Leadership Team (SLT) comprising Ms. Sindhu Padmanabhan (Vice-Principal), Mr. Faizal (Head of Section - Senior School), and Ms. Priya Sajit (Head of Section - Primary & Kindergarten) led a session apprising parents of the significance of the SEF document. Parents enthusiastically engaged in reviewing the Self-Evaluation Framework, offering valuable suggestions for each performance standard. These suggestions will be incorporated into the SEF to enhance its effectiveness.
To foster an environment for open and constructive dialogue, an Open Forum was conducted and various parental concerns were addressed. The meeting concluded with the Principal thanking the parent community and students for their whole-hearted support to the School.