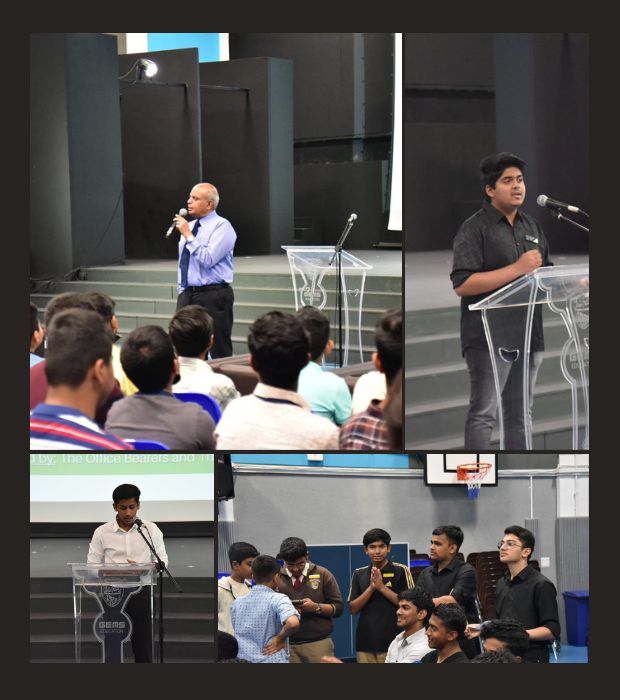 Prefects' Meeting with the Principal
25 May 2023
The newly elected Prefectorial board met with Mr. Srivalsan Murugan, the Principal & CEO, on May 25, 2023. Smaran Nair, the School Headboy, expressed his gratitude and emphasized on teamwork and effective leadership.
The Principal commended the board members and acknowledged the former office bearers and captains for their contributions. The new office bearers presented their plans and initiatives for the academic year, highlighting roles, goals, and innovations.
An open forum allowed collaboration among house members and student council representatives, using Mentimeter for feedback and active participation. Prefects from each group expressed thoughts on proposed ideas and enabling further brainstorming.
The last on agenda was an interactive session on 'Emotional intelligence' with Ms. Sandhya, the school counselor. The session aimed to enhance the leadership skills of the prefects by emphasizing the importance of self-awareness, empathy, and effective communication.
Assistant Head Boy, Mirvav Prajapad, delivered the vote of thanks, He expressed his gratitude to all for their active participation and valuable contributions. He acknowledged the Principal, former office bearers, and captains for their guidance and support, and encouraged everyone to work as a team to achieve the shared goals for the academic year.
The Prefects' meeting with the Principal, provided an excellent platform for the newly elected Prefectorial Board members to collaborate, share ideas, and plan for the current academic year. The event fostered a sense of unity, responsibility, and commitment among the prefects, setting a positive tone for their upcoming term.