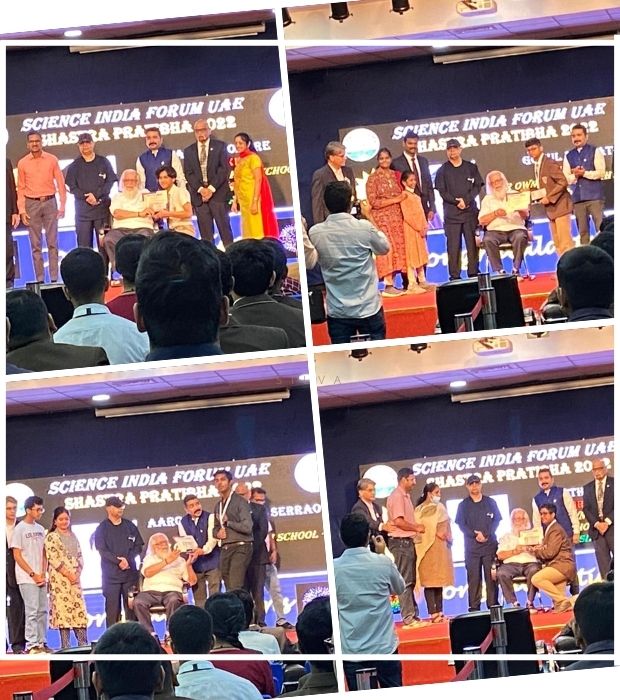 Sastra Pratibha Contest 2022
19 March 2023
SASTRA PRATIBHA CONTEST 2022 is a national science talent search contest that is conducted nationally for students studying in the UAE. The contest is guided by VIBHA (Vijnana Bharti) in collaboration with NCERT, the Ministry of Human Resources and Development, and Vigyan Prasar. Its primary objective is to promote science among students in grades V to XII who follow the Indian curriculum and to identify and nurture bright minds to pursue science-related subjects in higher studies.
Four exceptional students from our school Gokul Prasad -6B, Adithya Anush-8G, Om Arun-12A and Aaron Stanislous-12A have emerged as the distinguished winners of the highly esteemed Sashtra Prathibha Contest 2022, outshining a total of 16 participants representing the United Arab Emirates. They were taken to Mumbai on an educational trip visiting Homi Bhabha Centre for Science Education, Institute of Chemical Technology, Nehru Science Centre & IIT.
The title winners of the SPC and the meritorious students were felicitated on Sunday, 19th March 2023, between 9:30 am to 12:30 pm at the Bits Pilani Dubai Campus, Academy City. Padma Bhushan Shri Nambi Narayanan, Former Director- Advance Technology & Planning, ISRO Headquarters, graced the event as the chief guest.
A total of 96 schools from the different emirates of the UAE participated in the event, and 22 schools were from the emirate of Sharjah, which comprised 15,627 students in total.
In our school, a total of 1210 students across grades 5-12 registered for the prestigious Sastra Prathibha Contest, and each of them received a participation certificate. From this group, 350 students qualified for the intermediate level, and among them, 128 students paid for the contest and participated in it, receiving the Certificate of Excellence. Additionally, twelve outstanding students qualified for the advanced level and were awarded the Certificate of Merit and a medal.
These remarkable achievements not only bring immense pride to our esteemed institution but also serve as a testament to the unwavering dedication, perseverance, and exceptional capabilities of our students.