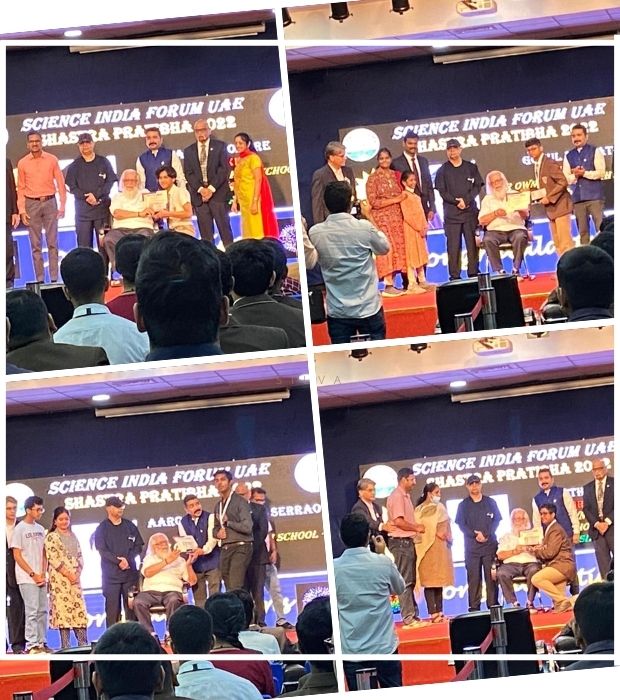 Sastra Pratibha Contest 2022
19 march 2023
We are delighted to announce that four of our boys have been declared as the winners of the Sashtra Prathibha Contest (SPC) 2022. They are:
1. Gokul Prasad - 6B
2. Adithya Anush - 8G
3. Om Arun -12A
4. Aaron Stanislous - 12A
The title winners of the SPC and the meritorious students were felicitated at BITS Pilani Dubai Campus. Padma Bhushan Shri Nambi Narayanan, Former Director, Advance technology & Planning, ISRO Headquarters was the Chief Guest. A total of 96 schools across UAE participated in the event. 15,627 students from 22 schools of Sharjah participated in the contest.
Sastra Prathibha Contest (SPC) is a national science talent search contest for students studying in UAE guided by VIBHA (Vigyan Bharti) in collaboration with NCERT, the Ministry of Human Resources and Development and Vigyan Prasar. The contest aims to popularise science among students of grades V to XII, in schools following the Indian curriculum. It further aims to identify and nurture bright minds to pursue science related subjects for higher studies.
SPC 2022 was held as a three levels contest to select sixteen Sastra Pratibhas: two each from each grade. The first two levels were home based online MCQ examinations and the third level was a written test and a viva-voce for those students who qualified in the first two levels. A total of 1,210 students from our school registered for this prestigious contest.
All students were given participation certificates. Out of these, 350 students qualified for the intermediate level. 128 of them were felicitated with Certificates of Excellence.
Twelve meritorious students qualified for the advanced level and they were credited with the Certificate of Merit and a medal. They are:
1. Mohammed Ayan Ashraf -6D
2. Govardhan Vimal Kumar – 6A
3. Gokul Prasad -6B
4. Adithya Anush -8G
5. Adithya Rajesh -8D
6. Sreehari Deepu Nair-9F
7. Sreepadmanabhan -9F
8. Ashwel Rodrigues 10D
9. Shreyas Goud -10A
10. Johan Joji Joshua -10F
11. Om Arun -12A
12. Aaron Stanislous 12A