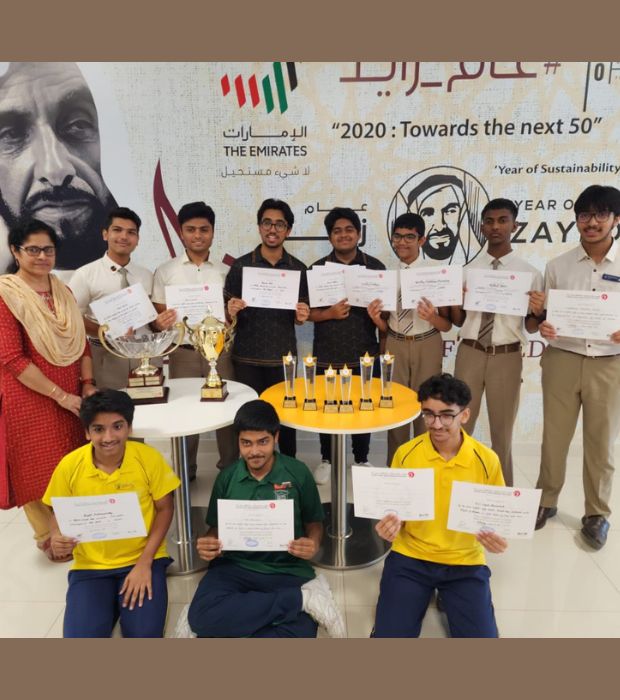 OOB EMERGES CHAMPIONS AT THE OIS INTER -SCHOOL UNITED NATIONS SIMULATION CONFERENCE
18 June 2023
OOB emerged champions in the UNSC 2023 held at OOIS, Al Quoz, Dubai on 17 & 18 June 2023. It is a simulation of United Nations Conference spanning two days. A school team of 5 delegates and 5 individually registered delegates participated in the event. It was a momentous day in the history of OOB, as the Debating Society members could bring home the much-coveted rolling trophy for the Best Team, competing against 19 other schools in the UAE.
Juan Mathew,11E, won the first prize for the Best Delegate and Best Position Paper in the committee WHO as the delegate of Ecuador.
Smaran Nair, 12G, the delegate of Iran (United Nations Commission on the Status of Women - UNCSW), won the 2nd Runner up trophy for the Best Delegate.
In the United Nations Office on Drugs and Crime (UNODC), Timothy Chummar, 9C, bagged the trophy for the Best Delegate, Second prize for the Position Paper and the third Prize for the Best Speech. Rahul Saini, 11A, won the 3rd Best Delegate Award and Preet Rajesh Bhanushali, 11B, won the 3rd Best Position Paper Award.
In the Economic and Social Council (ECOSOC), the first Prize for the Best Speech was won by Abijith Madhavankutty, 11 E, and Tarun Rawat 12 E, won the second.
OOB is proud and thrilled at their achievement. Congratulations and well done team OOB.