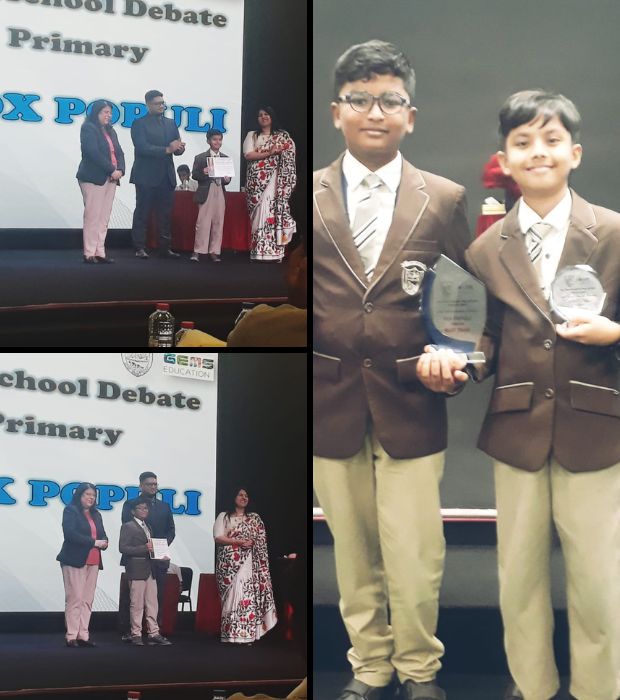 OOB CLINCHES THE TROPHY AT THE VOX POPULI – INTERSCHOOL DEBATE COMPETITION
At the Interschool Debate titled Vox Populi, hosted by GEMS OOS, the team comprising Anirudh Ganesh of grade 5G and Uzair Hussain Shaikh of grade 5A, clinched the coveted overall champions for the debate. In addition, Anirudh Ganesh was voted as the 'Best Speaker for the motion' while Uzair Hussain Shaikh was voted the First Runner-up against the Motion.
Ten participants - 5 speakers for the motion and 5 against the motion – took a stand for/against the motion – "Social Media Kills Family Time" The eminent judges for the event were – Mr. Vighnesh Prasad and Ms. Annet Davison, while the moderator was Our Own alumnus and former Head Boy, Mr. Amaan Iqbal Ibrahim.
The contestants took to the stage, each engulfed with the zest and zeal to put forth their views, using their power of persuasion to set the stage ablaze with their convincing arguments and persuasive counter-arguments in the Proposition and Rebuttal round. Within the stipulated time frame of three minutes, the participants roused and captivated the audience with divergent views for/against the motion, culminating in the motion to vote that was introduced by Mr. Amaan Ibrahim, wherein the majority of the audience voted in favour of the motion.