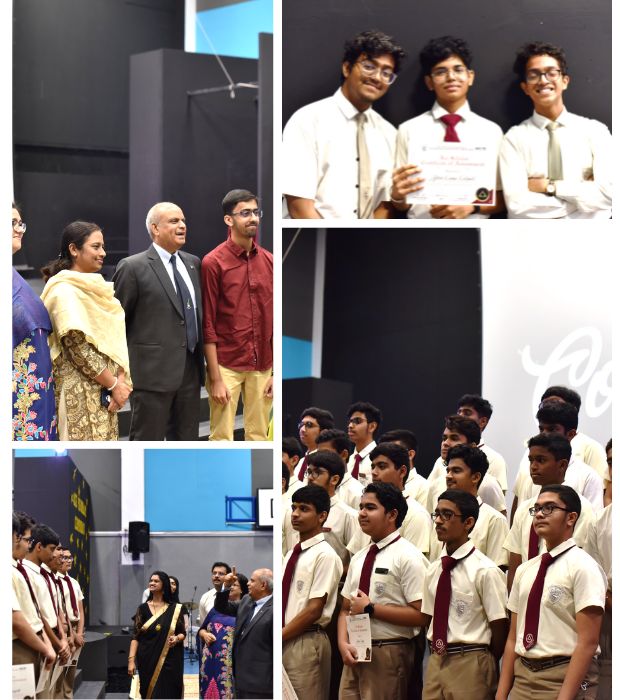 Ace Scholar Ceremony - 2022
30 Nov 2022
'Excellence is not a skill, it's an attitude'. The much renowned Student Council undertaking, the Ace Scholar Ceremony, was held on the 30th of November to celebrate the diligent and herculean efforts of Our Own young academicians. It was undoubtedly a day, where Our Own hearts and souls were brimming with reverence and elation, as our young tutees were recognized as 'Ace Scholars'.
The Student Council, zealously abiding by its motto of inspire, innovate, invent, was privileged to introduce custom designed Ace Scholar neckties this time, in place of the customary Ace Scholar badges. The Ace Scholar neckties are a symbol of academic success, and is a testament to the hard work put in by our tenacious pupils. In addition to the pristine neckties, to inculcate a spirit of change and creativity, the Student Council unveiled its first ever custom designed certificate for the Ace Scholars.
Embodying the saying, "the key to success is consistency", Rishitej Reddy Vyala of 12-B, a name that is to be etched on the walls of OOB for decades to come, was honoured as a '6x Ace Scholar'. Amongst the others felicitated on this marvelous day, we had ten '3x Ace scholars' from grades 10 and 12, and eighteen 'Ace Scholars' from grades 9-12. The indisputable achievements of these boys are a clear testimony to their unwavering commitment towards academic prowess, one which the Student Council will continue to foster.
We were esteemed to have in our midst, Principal and CEO, Mr. Srivalsan Murugan, Vice-Principal, Ms. Sindhu P. Nair, Heads of Sections, Supervisors and proud parents who proudly witnessed the Ace Scholars occupy their meritorious position in Our Own history, with the new neckties which they are entitled to henceforth. Truly a moment for them to cherish for years to come.
The Ace Scholar Ceremony yet again served as a means to confer the steadfast and inspire the emerging, as the Student Council marked its biggest leap in the quality of the Ace Scholar Ceremony since years. The success of this event is a manifestation to the pioneering efforts and visionary mindset of everyone who has worked behind the scenes.

- Mohammed Zafar
Secretary, Student Council