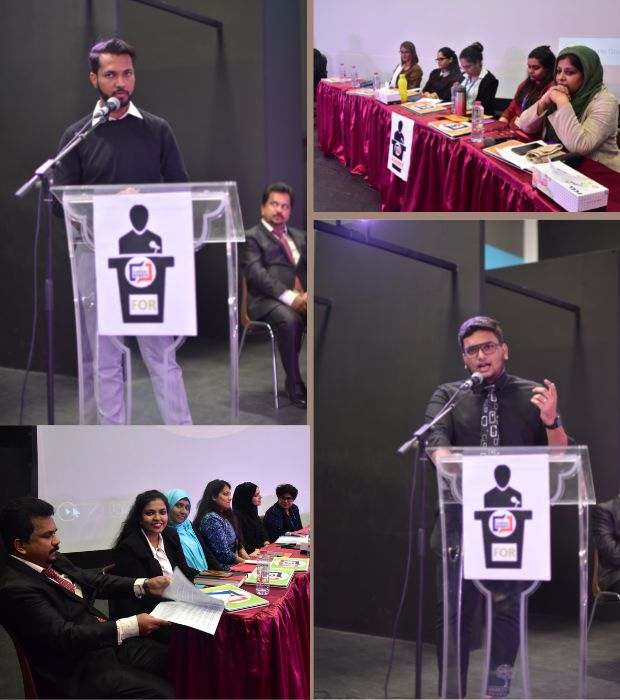 INTERDEPARTMENTAL TEACHERS' DEBATE 2023
16 Jan 2023
Debate and divergence of views enrich culture, and evoke and stir critical thoughts. The pursuit of truth through honest debate and rigorous argument is a noble undertaking. The inter-departmental teachers' debate was commemorated on 16th January, 2023, as eleven participants - 6 speakers for the motion and 5 against the motion – took a stand for/against the motion – "English as a medium of instruction is overrated." The eminent judges for the event were - Ms. Zita Devadasan, Ms. Clarissa Martins, and Mr. Mashhood Irfan, while the moderator was Our Own alum and former Head Boy, Mr. Amaan Iqbal Ibrahim.
The contestants took to the stage, each engulfed with the zest and zeal to put forth their views, using their power of persuasion to set the stage ablaze with their convincing arguments and persuasive counter-arguments in the Proposition and Rebuttal round. Within the stipulated time frame of three minutes, the participants roused and captivated the audience with divergent views for/against the motion, culminating in the motion to vote that was introduced by Mr. Amaan Ibrahim, wherein the majority of the audience voted in favour of the motion. The Best Speaker against the motion was Ms. Juanita Gonsalves, while Ms. Hajira Nazar was announced as the Best Speaker for the motion. Team Secondary comprising Mr. Joy George and Ms. Antonia Godinho was declared the Best Team.
The pinnacle of the event was the address delivered by the judge, Mr. Mashhood Irfan, and the moderator, Mr. Amaan Ibrahim; as they shared their pearls of wisdom and feedback on the event. The Principal and CEO, Mr. Srivalsan Murugan expressed his views to further bolster and motivate the audience and the participants. A thoroughly engaging and enthralling event culminated with a token of gratitude extended to the judges and the moderator for the day, as the vote of thanks was delivered by the event coordinator, Ms. Sofi Mathews.
Evidently, eloquent language has the power to persuade and build bridges of communication. To rightly sum up is the Latin phrase "Cogito ergo sum" – "I think, therefore I am."