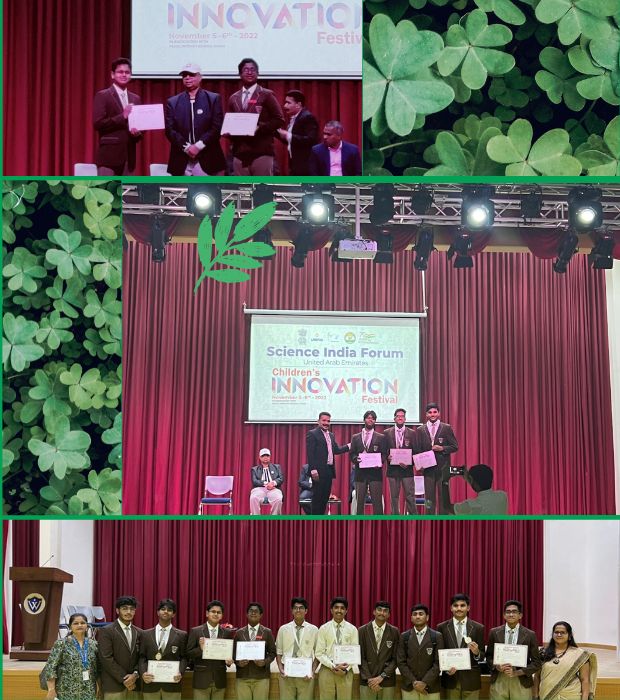 CHILDREN'S INNOVATION FEST-2022
6 Nov 2022
UAE children's innovation fest organized by SIF hosted a plethora of events, providing a wonderful platform to showcase the creative and innovative skills of the students. Scientific Case Study, NCSC- research projects, science skit contest, poster making, photography contest, drawing and painting – were the list of events that students took active participation in. The event was held at Pearl wisdom school on the 5th and 6th of November. 1600 students from 75 schools across the emirate, participated in various events of their interests.
Our students gave a magnificent performance and clinched prizes in three of the listed events:
• In Scientific Case Study under Senior category, Harishankar Ranjit Menon(12A), Harshit kumar Saini (12A), Nithin Santhosh (12A) bagged the first place. The students were assigned the task of finding a viable solution to a pertinent global issue. The team worked under the guidance of Ms. Lizy Franco and did a detailed research on Bio fuels – a reliable and a green alternative to the fossil fuels.
• In poster making contest, Ashwin Krishna (11E) and Bennet Abraham Shaju (11H) bagged the second place. The topic was given one hour before the contest and the suggested theme was 'Climate change – A reality'
• Amarnath (7E) and Aditya Anush (8G) secured the 3rd position in the quiz contest.
The winners were awarded in the felicitation ceremony held at Pearl Wisdom School, Dubai on the 6th of November, 2022.