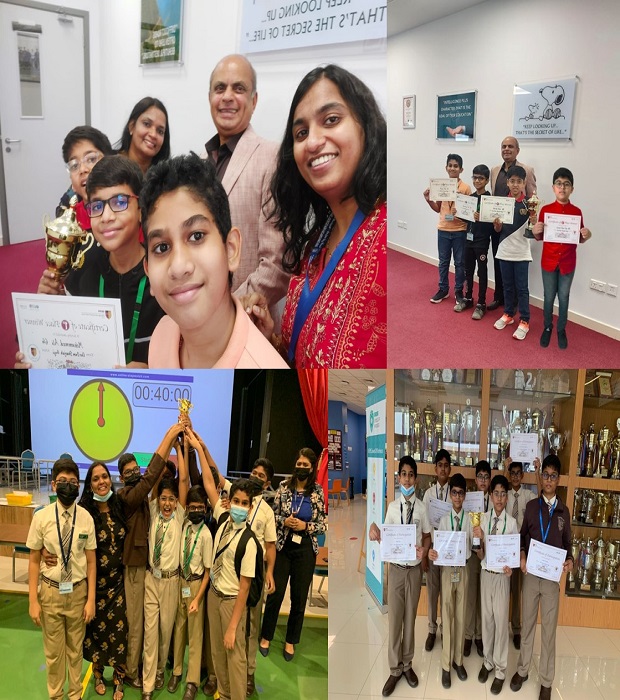 OUR OWN BOYS EMERGE WINNERS AT THE GCS MATH CHALLENGE -2022
29 June 2022
Gems Cambridge International Private School-Sharjah (GCS) organized a Math Challenge competition for the students of Grade 5 & 6 on 29th June 2022. Eight students from grade 6 participated in the competition and they were divided in to two groups , Team 1 and Team 2. Ten teams participated in the program from GEMS schools.
Questions were based on the UKMT (United Kingdom Mathematics Trust) .There were 4 rounds in total . Group Round, Shuttle Round, Cross Number Round and Relay Round. Students had to continuously solve around 15 questions in each rounds back to back having a short break of 10 minutes after each rounds. Many questions were really challenging, above their age level and curriculum standards. Our students who represented TEAM 1 ( Kevin John Ciju- 6E ; Ritvik Nair-6B; Mohammed Ali- 6G and Milan Tom-6F ) scored 135 points and won the First place in the competition.
Students were awarded with Trophy and Certificates. This would not have been possible without the massive support from our Junior middle math teachers. Congratulations to these Young Math Geniuses who showcased their mathematical skills in problem solving , mental ability , reasoning and above all quickness in solving.