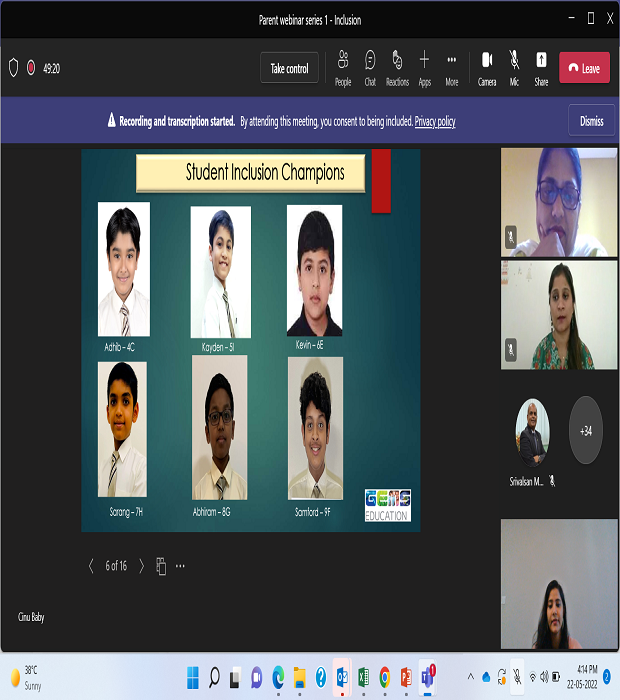 OOB PARENT WEBINAR SERIES ON INCLUSION
22 May 2022
The online Parent webinar was organized by the Inclusion team, led by Ms. Cinu, on 22nd May 2022, was an interactive session with parents of Our Determined Ones to brief them about Inclusion practices at school.
The Principal & CEO, Mr. Srivalsan Murugan, addressed the gathering and reiterated his unstinting support towards the welfare of our SEN students, the accommodation incorporated, the extensive inclusion practices and emphasized that collective efforts of the school and the parent community, no doubt will pay rich dividends.
An inspiring and encouraging talk by Ms. Rizwana, the Parent Inclusion Champion enthused the audience, with her insightful experiences of equipping herself and taking care of her ward's concerns in collaboration with the relentless assistance from the school SEND Team. Our own student champions shared path breaking well-being initiatives like the LEAD programme, the Anti-bullying Committee, and Psychological First Aiders (PFA). Parents were also briefed about the plethora of workshops and training sessions conducted incessantly for teachers; and regular awareness sessions for support staff and drivers. Parents were also informed about the SEN Action team, Teacher Inclusion Champions, policy and procedures.
The session concluded with Ms. Sindhu Padmanabhan, the Vice Principal proposing the Vote of Thanks, appreciating the stellar efforts of the Inclusion Team and for the persistent support that is provided for the holistic development of 'our own Determined Ones'.