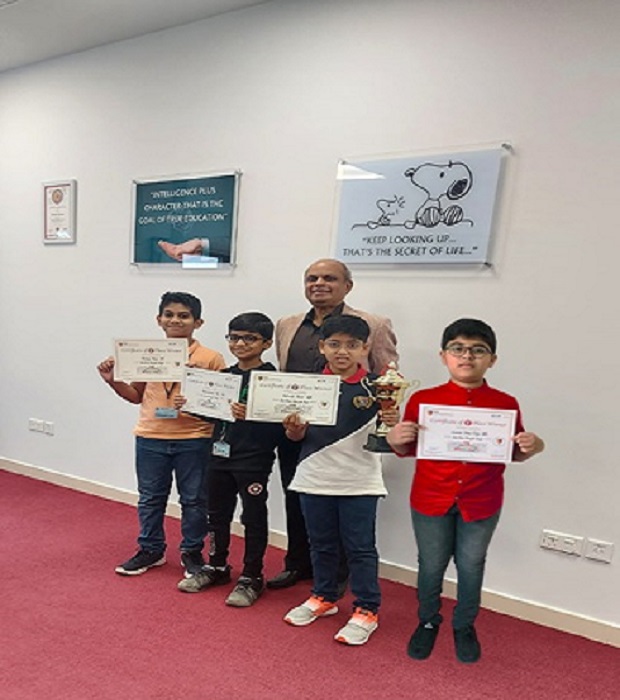 The Erudite, The Mastermind, The Genius OOB Mathematicians
10 Sep 2022
One adjective cannot sum up the brilliance of our young mathematic champions who raised the OOB banner high at these nerve-wracking, mind-boggling, complex Mathematics Competitions.
On the 29th of June, 2022, our students from the Junior Middle Department- Kevin John Ciju- 6E; Ritvik Nair-6B; Mohammed Ali- 6G, and Milan Tom-6F; blazed their way to victory at the Math Challenge Competition organized by GEMS Cambridge International Private School, Sharjah. These young geniuses skillfully demonstrated the application of their Mathematical knowledge even in questions well beyond their age, clinching victory competing against 10 teams.
Similarly, at the Interschool Sudoku and Mathematics Quiz competition organized by NIMS, Dubai on 10th September'22, 4 OOBites proved that they truly are erudite. Hainz Abraham -5F and Ritwik Gupta- 4C bagged the first and second places in the sub-junior category, whereas Tharun Muthukrishnan – 6A won the first place in the junior category. Kasinadh Anurag of 8E came in 3rd place in the senior category. Our boys were all smiles at their impressive win against participants from 9 other schools and they deserve it too for showing off their expert spatial observational skills and lightning-fast calculations.
Kudos to our boys and the team of dedicated team of Math teachers led by the Head of department , Ms. Nisha Ramesh for guiding, coaching, and supporting our boys at every step. Congratulations on the achievements of our boys.