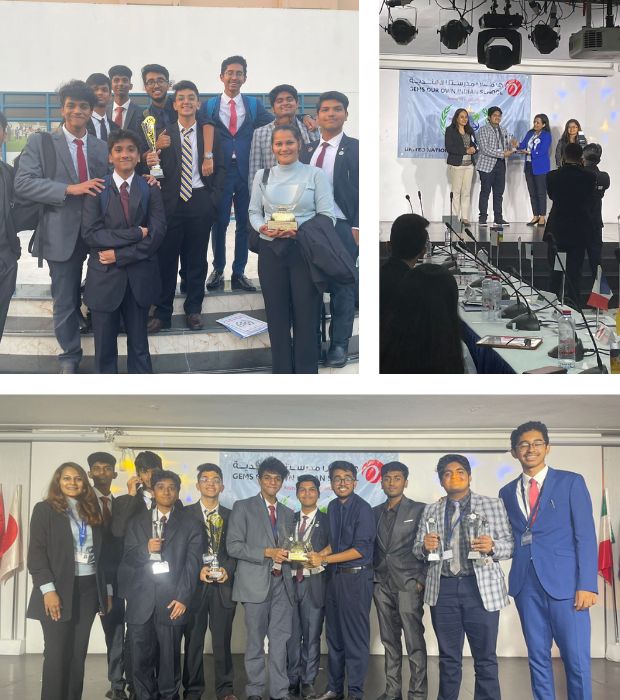 United Nations Simulation Conference
26 Nov 2022
The 17th edition of the United Nations Simulation conference was conducted on 26 November 2022 at Our Own Indian School, Al Quos, Dubai.
This year, in addition to a team of 5 students [Juan Mathew (10 B), Azhar Ahmed (12 F), Maharshi Pandya (11 C), Abijith Madhavankutty (10C), Smaran Nair (11E)] as school delegation, a group of 5 students also registered as individual participants [(Amil Abdul Manaf (11D), Gokul Krishnan (10 A), Mohammed Faridudeen (10 D), Joshua Joseph (12 C)].
Around 13 schools participated in the competitive conference that entailed diplomacy and wisdom in international affairs as seen in the United Nations conferences. In this simulation, the students represented different countries and as delegates they got involved in the UN procedures, speaking and debating on international and domestic issues.
OOB returned home triumphant, with the trophy for the 2nd Best Overall School Delegation, and eight individual awards.
The prizes are :

Juan Mathew
Best delegate - 3rd
Best speech - 1st
Best position paper - 1st
Best Draft resolution - 1st
Azhar Ahmed
Best Delegate -1st
Tarun Rawat
Best delegate - 3rd
Abijith Madhavanktty
Position paper - 1st
Smaran Nair
Position paper-2nd